Leg Fracture Nursing Home Lawsuit
Baker v. SSC Baltimore Operating Company LLC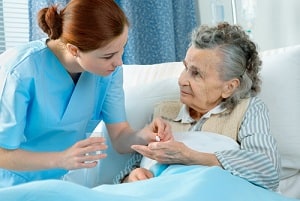 This nursing home negligence lawsuit was filed led by the estate of a woman in Baltimore City after the woman suffers a femur fracture while being assisted from a chair to her bed by a member of the nursing staff. It was filed in Health Claims Arbitration on May 5, 2017, and it is the 214th medical malpractice case filed in Maryland this year.
Summary of Plaintiff's Allegations
A woman sustained a fracture of her left femur while being transported from a chair to her bed with the help of a nurse at Overlea Health and Rehabilitation Center. According to the woman, her foot got caught in one of the sides of the chair, and then she heard a popping sound. The woman had a medical history of peripheral vascular disease, diabetes, chronic pain syndrome, severe anemia, hidradenitis suppurativa, and a chronic non-healing perineal wound. She also had multiple surgeries, including a right above-knee amputation which made her especially reliant on her remaining left leg for crucial daily functioning and mobility. When she had been admitted to Overlea, three years before this incident, the woman had been categorized as "high risk" for falls.
X-rays taken both at Overlea and in the Good Samaritan Hospital Emergency Room confirmed a comminuted fracture of the intertrochanteric region of the left femur with varus angulation. As a result, the woman underwent medical stabilization, wound cauterization, and intramedullary Gamma nail placement surgery. One week later, she returned to Overlea with recommendations to follow up with an orthopedic surgeon, vascular surgeon, infectious disease and pain control management specialist, and an occupation and physical therapist. Because her femur injury rendered her basically immobile, the woman health continued to decline. She developed several wounds and suffered pain that prevented her from functioning as she normally would. The woman died several months later due to unrelated causes.
Additional Comments
The tough thing about this case is that the woman's other leg had been amputated. If you only have one leg, and injury to that leg is going to be far more substantial.
The problem in the case is that the decedent in now around to give testimony. It is also sometimes a challenge when the pain and suffering damages are given to the victim's estate as opposed to the victim herself.
Plaintiff is going to try to keep this case in Baltimore City because the victim was a Baltimore City resident. The nursing home is going to argue the case belongs in Baltimore County because that is where the alleged tort occurred. If the case remains in Baltimore City
This nursing home was sued in 2010 in a nursing home case. It appears the case settled in 2011. It was sued in another nursing home case in 2011 although it appears that case was dismissed.
Jurisdiction Defendants
SSC Baltimore Operating Company LLC (dba Overlea Health and Rehabilitation Center)
Hospitals Where Patient was Treated
Overlea Health and Rehabilitation Center
Negligence
Failure to ensure proper procedures of transfer from a Geri chair to a bed
Specific Counts Pled
Economic damages: medical and other expenses
Noneconomic damages: mental pain, anguish, fright, embarrassment, humiliation, physical pain, and trauma
Getting a Lawyer for Your Malpractice Claim
Have you suffered a hospital injury due to the negligence of a doctor? Miller & Zois can help you. Call us at (800) 553-8082 and speak to one of our medical malpractice attorneys who can help you or get an online case review.
More Malpractice Claim Information