Slip and Fall While Eyes Dilated Malpractice Lawsuit
Mayhew v. Chesapeake Eye Care and Laser Center, P.C.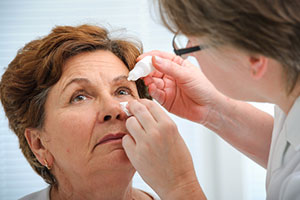 This is a slip and fall medical malpractice lawsuit stemming from treatment during an ophthalmologist visit. This claim was filed with the Maryland Health Care Alternative Dispute Resolution Office on May 2, 2017. Plaintiff's suit is the 205th medical malpractice case filed in Maryland this year.
Summary of Plaintiff's Allegations
Plaintiff is a patient at the Chesapeake Eye Care and Laser Center, P.C., in Anne Arundel County. When she is there for treatment, staff members dilate her eyes, thereby impairing her vision to some degree.
Plaintiff needs to use the restroom. One of the staffers, subsequently named as a defendant, directs her to the restroom but provides no escort. To reach the restroom, the plaintiff must pass through a poorly lit hallway that is cluttered with office equipment, making passage difficult. Her vision already impaired and worsened by the poor lighting, plaintiff walks into an unmarked clear glass door at the end of the hallway, suffering serious and permanent injuries.
Plaintiff alleges that it was a breach of the standard of care to allow a patient with dilated eyes to walk around the facility without supervision. This incident, and the damage resulting from it, also causes severe injury to plaintiff's relationship with her husband. He has filed a loss of consortium lawsuit.
Additional Comments
The plaintiffs' qualified expert in this case attests that the actions of the defendants are "not in accordance with the standards of practice among members of the same health care profession." But this case may not be as much about medical qualifications as it is about common sense. A woman with impaired vision is sent down a dark cluttered hallway by herself. Ultimately, the question is should the health care providers at Chesapeake Eye Care and Laser Center have foreseen this potential risk?
It might make a difference in this case if staffers in fact offered to escort her, or if she asked for an escort. Did she ask for help? These are important questions for plaintiff in this difficult case on liability.
On big hurdle plaintiff will have is the standard of care. It is not, for example, a breach of the standard of care to allow a patient to drive home after their appointment. It may be a quantum leap to suggest that it is a breach of the standard of care to let a patient with dilated eyes walk to the bathroom without an escort.
In Maryland, plaintiff has a challenge in slip and fall cases like this: contributory negligence and assumption of the risk are absolute bars to plaintiff's claim. She knew there was a risk of walking without a clear vision and she proceeded. This is going to be a problem in front of an Anne Arundel County jury.
It is hard to assess the rest of the classic slip and fall case which involves unmarked glass and a dark hallway. But this element of the claim still has a tough assumption of the risk hurdle to clear.
Elsewhere on our website, we take a look at the settlement value of slip and fall cases in Maryland
Jurisdiction Defendants
Chesapeake Eye Care and Laser Center, P.C.
A doctor
A health practitioner
Negligence
Failure to take into consideration the effect of plaintiff's impaired vision on her ability to function normally
Failure to provide an escort or supervision for plaintiff in a potential hazardous situation
Wrongfully sending plaintiff through a dark, obstruction-ridden walkway while her vision was impaired
Failure to mark a clear glass door in such a way as to increase its visibility and lessen the possibility of accidents
Specific Counts Pled Plaintiff's Experts and Areas of Specialty Getting a Lawyer for Your Malpractice Claim
Have you or a loved one suffered due to a doctor's negligence? If so, Miller and Zois can help. You deserve justice and compensation for the pain you have suffered. We have a proven record of large verdicts and settlements in Maryland medical malpractice claims. Give us a call today to speak to one of our attorneys at (800) 553-8082. You can also go online for a free case evaluation.