Compression Fracture Misdiagnosis Lawsuit in Cumberland
Keller v. MEP Health, LLC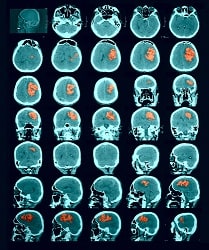 This is a radiologist and emergency room malpractice case filed by a man in Allegany County on January 12, 2017 for delayed diagnosis of a compression fracture. It is the 15th medical malpractice lawsuit filed in Maryland Health Claims Arbitration in Maryland in 2017. Coincidentally, it is the second of two back-to-back unrelated malpractice lawsuits in Cumberland (here is the first).
Summary of Plaintiff's Allegations
Plaintiff, a 47-year-old male, goes to the hospital after falling from a ladder ten feet in the air the same morning. The ladder fell on him, striking his back and right shoulder. The man states there was a possible loss of consciousness, and that he has constant, severe pain in his head, ribs, back, and right jaw. The ER doctors noted that he was confused and repeating himself.
Defendant radiologist completes CT scans of the man's head, face, cervical spine, chest, abdomen, and pelvis. He finds a nasal fracture, and defendant doctor recommends clinical correlation.
Plaintiff alleges that the CT of his abdomen/chest clearly showed an obvious compression fracture, which defendant radiologist did not report. He also argues that a compression fracture in his spine was present. Plaintiff alleges that defendants should have ordered further studies of plaintiff's spine based on the original CT scans.
Instead, plaintiff is discharged with a diagnosis of "fall from height, blunt trauma of head, face, chest, and abdomen. Head injury with possible concussion, nasal fracture." He is told he does not have a significant injury, so he can go about his normal activities.
For the following weeks, plaintiff has continued pain, especially in his mid-back. He reports this pain to his primary care provider, who prescribes pain medication. Despite the medication, plaintiff's pain becomes severe.
His primary care provider orders an MRI of his spine to be done at Western Maryland Regional Medical Center, where Defendant Allegany Imaging was in charge of interpreting the results. This MRI is interpreted as showing evidence of three fractures in plaintiff's dorsal vertebrae. The doctor interpreting this MRI compared it specifically to the CT done a few weeks prior, stating that the fractures have progressed.
At this point, the radiologist realized that there had been missed fractures in the interpretation of the CT by defendant radiologist. He calls plaintiff's wife to request the images, as his wife is the Imaging Information Systems Manager at the hospital and is the administrative technical manager for defendant Allegany Imaging. Sure, Cumberland is a small town but this is just an incredible coincidence, right? Not knowing he is speaking to the patient's wife, the doctor tells her that an error occurred, and that the patient needs surgery immediately. The wife soon realizes that the images and information are her husband's, and he explains that her husband had three missed, undiagnosed, and untreated compression fractures in his thoracic spine.
Plaintiff's wife calls him, telling him that he needs to come back to the hospital. Plaintiff drives to the hospital and meets with the doctors. During this meeting, the failure of defendant to interpret and report the three compression fractures was discussed, and plaintiff was advised to have a kyphoplasty done immediately. Surgery is scheduled.
Plaintiff alleges that if the fractures would have been reported sooner, than he would have been put in a brace and on bed rest, preventing the loss of stature. This would have eliminated the need for a kyphoplasty. Plaintiff alleges that as a result, he is permanently and significantly disabled.
Additional Comments
Obviously, the most interesting thing about the case is the doctor calling the patient's wife in her capacity as a hospital employee. Even in a small town, what were the odds?
The first question is whether there was negligence. You would need to see the images to draw a conclusion. The question is whether an ordinary, reasonable radiologist would have read those MRIs - assuming the standard of care was met taking the films - and caught the compression fractures.
The even bigger question in this case is going to causation. You need to prove both negligence and harm stemming from that negligence. The plaintiff's expert report from Dr. Howard Snyder just drives by this question. You can expect the doctors to argue that the patient's pain prevented him from anything to worsen their fracture. Getting a doctor to think slice out the harm caused by the delay could be a problem.
Jurisdiction Defendants
A diagnostic radiologist
Allegany Imaging, P.C.
MEP Group emergency room doctor
MEP Health, LLC
MEP I & II, LLC
MEP of Cumberland, LLC
Hospitals Where Patient was Treated
Western Maryland Health System
Specific Counts Pled
Medical Negligence
Lack of Informed Consent
Loss of Consortium
Plaintiff's Experts and Areas Of Specialty Getting a Lawyer for Your Malpractice Claim
If you have suffered due to negligence in an emergency room or by a doctor or nurse, our firm can help you. Miller & Zois has experience handling cases in Cumberland and, more importantly, we have a long history of achieving large verdicts and settlement in medical malpractice cases throughout Maryland. Look at the "Verdicts and Settlements" link above for more information and read about our attorneys. Call us today to speak with an attorney at (800) 553-8082. You can also go online for a free case consultation.
More Malpractice Claim Information