Endotracheal Tube Placement Malpractice Case
Anonymous v. Suburban Hospital Healthcare System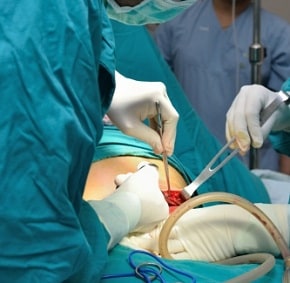 This is wrongful death hospital malpractice case filed on behalf of a man in Montgomery County. This case was filed in Health Claims Arbitration on January 18, 2016. It is the 30th medical malpractice case filed in 2017 in Maryland, and the first of the year filed by Miller & Zois.
Summary of Plaintiff's Allegations
Decedent is a patient at Suburban Hospital in Bethesda. Decedent's Estate alleges that the hospital staff failed to maintain an adequate airway for decedent to receive an adequate supply of oxygen. Just short of two months after his admission to Suburban Hospital, decedent passes away due to a hypoxic brain injury.
Plaintiff's lawsuit contends that Suburban Hospital by and through the actions of their agents and employees breached the applicable standard of medical care by failing to maintain an adequate airway for the decedent to insure he received an adequate supply of oxygen to his body and brain, and this breach of the standard of care was a proximate cause of the decedent's death.
Additional Comments
This is a Miller & Zois case. We rarely provide many details about the merits and specifics of our own malpractice lawsuits apart from the details provided in the Complaint. So any commentary here is intentionally general and not tailored to the facts of our claim.
This this case is about endotracheal tube placement. Speaking generally, physical examination methods, such as auscultation of lungs and epigastrium, visualization of chest movement, and fogging in the tube, as not sufficiently reliable confirmation of endotracheal tube placement is recommended. The American College of Emergency Physicians, for example, requires support verification techniques including capnometry, esophageal detection devices, and revisualization with direct laryngoscopy. The College indicates that end-tidal CO2 detection, either qualitative, quantitative, or continuous, is the most accurate and easily available method to monitor correct endotracheal tube position in patients who have adequate tissue perfusion.
One common mistake made in placing these A common error is inserting the endotracheal tube too far past the vocal cords. This results in one lung ventilation and the possibility of barotrauma from the volume intended for two lungs being delivered to one. The unventilated lung will become progressively atelectatic and collapse. Unoxygenated blood from the left lung will mix with the output of the right lowering the amount of oxygen delivered to tissues
Jurisdiction Defendants
Suburban Hospital Healthcare System, Inc.
Suburban Hospital, Inc.
Hospitals Where Patient was Treated Negligence
Failure to maintain an adequate airway for decedent to insure he would receive an adequate supply of oxygen to his brain and body
Specific Counts Pled
Negligence
Medical Malpractice
Wrongful Death
Plaintiff's Experts and Areas of Specialty Plaintiff Firm/Attorneys Getting a Lawyer for Your Malpractice Claim
If you believe you have suffered a severe injury due to the negligence of a doctor, the attorneys at Miller and Zois can help you. We have a long history of earning large verdicts and settlements in medical malpractice cases. Call us today at (800) 553-8082 or go to our website for a free case evaluation.
More Malpractice Claim Information