Placenta Previa Lawsuit in Annapolis
Gale v. Annapolis OB-GYN Associates, P.A.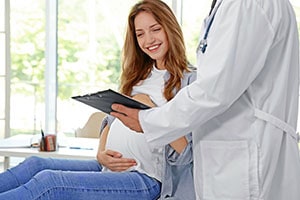 This is a placenta previa OB-GYN medical malpractice lawsuit that involved injury to the mother after childbirth. was filed by a woman in Anne Arundel County. It was filed in Health Claims Arbitration on January 30, 2017, making it the 49th medical malpractice case filed in 2017.
Summary of Plaintiff's Allegations
Plaintiff receives all of her OB-GYN treatment at defendant's office in Anne Arundel County. She becomes pregnant with her third child, and at twenty weeks, she has a sonogram which reveals that the placenta is too low and is blocking the baby's way out. A subsequent sonogram reveals that she still has a low-lying placenta. The fear is placenta previa which can cause a risk to both mother and child. This mom is in a high-risk group because she has had two prior c-sections. Defendants tell her they will monitor her condition closely.
At 32-weeks pregnant, the plaintiff is diagnosed by defendant nurse practitioner with a complete previa. Defendants tell her that she will need to deliver three weeks early because of this condition. Plaintiff goes for appointments weekly.
After a month, plaintiff falls after slipping on ice. She informs one of the defendant doctors, who directs her to go to the hospital for monitoring. The doctor in the hospital tells her to watch for labor signs and to come back in one week after observing her for one hour.
A week later, the plaintiff is seen again by one of the defendant doctors who tells her that he wants to deliver the baby that day. However, the delivery is not able to take place because the hospital would not be fully staffed. Defendants schedule a Caesarian section for the following day.
After the delivery of her baby, plaintiff asks defendants if she will be able to have more children. Defendants assure her that she will be.
While plaintiff is in the recovery room, she begins to have problems. Her blood pressure drops, and she passes a massive clot. She is given a blood transfusion and is diagnosed with placenta accrete. She is rushed to the operating room and has an emergency hysterectomy where her uterus, much of her cervix, and parts of her fallopian tubes are removed. She remains at Anne Arundel Medical Center for a few days and has several blood transfusions.
Plaintiff alleges that defendants should have recognized her increased risk for a placenta previa injury due to her prior two Cesarean sections. She claims that due to the negligence of the defendants, she had to undergo an emergent hysterectomy and can no longer have any children.
Additional Comments
Most placenta previa cases involve a birth injury to the child. The settlement value of these cases is usually in the millions, and the trial value is even higher. In this case, damages are more of an issue. This mother apparently has two other children. How much value is a jury going to place on no longer being able to have children when you already have three kids. The answer, of course, depends on how convincing the mom is that she wanted more children. But the upside of the case is mostly the cap on damages. Economically, this is a tough case on plaintiff's malpractice lawyers because of the expense invariably involved in bringing a malpractice case against an OB/GYN. The experts in these cases can be very expensive.
The more serious injuries in these cases are to the baby because the mother can better withstand the hemorrhage. Bleeding that is insignificant to the mother can cause lifelong birth injuries to the child.
Surprisingly, the hospital managed to avoid plaintiff's malpractice lawyer's crosshairs and was not named in this lawsuit.
Jurisdiction Defendants
Annapolis OB-GYN Associates, P.A.
Six OB/GYNs
A physician assistant specializing in gynecology and obstetrics
A nurse practitioner
Hospitals Where Patient Was Treated
Anne Arundel Medical Center
Negligence
Failure to recognize - or properly treat - plaintiff as high-risk for placenta previa injury because of her two prior Caesarian sections
Failure to monitor plaintiff
Failure to obtain an MRI to determine the extent of plaintiff's condition
Getting a Lawyer for Your Malpractice Claim
If you have suffered an injury due to the negligence of a doctor, Miller & Zois can help. You are entitled to compensation and justice for the harm that has been done to you. Call us today at (800) 553-8082 to speak with an attorney or get a free case review online.
More Malpractice Claim Information