Wrongful Death Pressure Sore Lawsuit
Brunswick v. Genesis Healthcare
(Filed January 10, 2017)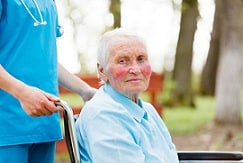 This is a nursing home wrongful death case filed on behalf of a man in Montgomery County. IT was filed in Health Claims Arbitration on January 10, 2017. This is the 13th medical malpractice case to be filed in 2017 in Maryland. It is the second pressure sore wrongful death malpractice case filed this year.
Summary of Plaintiff's Allegations
Decedent is admitted to Shady Grove Center (a Genesis facility) to be rehabilitated for independent living. When he is admitted, he is suffering from acute exacerbation of a chronic illness, but he does not have any wounds or sores in his sacral region.
Within one month of residing at Shady Grove Center, decedent develops a significant pressure ulcer on his sacrum. This pressure ulcer becomes infected, and is not properly treated. This contributes to his death less than two months after the ulcer developed.
Additional Comments
There are a lot of bedsore cases filed against Genesis in Maryland. Here are some examples in the past year:

Lawsuit case filed against a Genesis nursing home in 2016 in Prince George's County
Another 2016 bedsore lawsuit against a Genesis facility, this one in Annapolis
Bedsore lawsuit filed against Genesis in Hartford County

The standard of care for the prevention of and treatment of pressure ulcers is the same for nursing homes as it is for doctors. The resident must frequently be turned, preferably every two hours, the area at risk should be kept clean and dry.
A Stage I formation of a pressure ulcer is not medical malpractice. Proper tracking of the pressure ulcer required documentation of the stage, size, color, odor, and drainage of the bed sore.
The defense in bed sore cases is that there is a consensus in the medical community that not all pressure ulcers are preventable. It is true that pressure ulcers can occur despite early evaluation of risk for pressure ulcer development and interventions to prevent pressure ulcers. In this case, Genesis is likely to argue that this woman's bed sores were really caused by her underlying condition. But the reality is that the vast majority of pressure sure cases are preventable with due diligence.
One thing Genesis could do to avoid all of these pressure sore lawsuits is to identify residents who are at high risk for developing this condition. Clinical conditions that are the primary risk factors for developing pressure sores include, resident immobility, urinary incontinence or chronic voiding dysfunction, chronic or end stage renal, liver, and heart disease and malnutrition/dehydration.
Jurisdiction Defendants
Shady Grove Center
Genesis Healthcare LLC
Genesis Healthcare Corporation
Negligence
Failure to properly monitor, diagnose, and treat decedent on a persistent basis
Failure to monitor for development of pressure ulcers
Failure to not get assistance for prevention and care of pressure sores in a high-risk patient
Failure to assure adequate turning and re-positioning of decedent
Failure to not assure and provide changes of bed linens
Failure to address nutritional, circulatory, and infection prevention methods
Failure to notify the attending physician of significant changes in decedent's physical condition regarding the development of pressure ulcers
Specific Counts Pled
Negligence
Vicarious Liability
Negligent Hiring and Retention
Wrongful Death/Vicarious Liability
Getting a Lawyer
If you suffered due to the negligence of a nursing home or a doctor, Miller and Zois can help. You are entitled to justice and compensation. We have a long history of large verdicts and settlements in nursing home and wrongful death cases in Maryland. Get a free case consultation, or call one of our nursing home attorneys at (800) 553-8082.
More Malpractice Claim Information