Good Samaritan ER Malpractice Lawsuit
Henderson v. Good Samaritan Hospital of Maryland, Inc.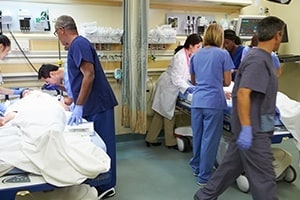 This is an emergency room failure to diagnose and treat medical malpractice lawsuit filed on behalf of a man in Baltimore City. It was filed on January 27th and is the 47th medical malpractice case filed in Maryland in 2017.
Summary of Plaintiff's Allegations
Plaintiff goes to the emergency room at Good Samaritan Hospital in Baltimore City in July 2017with chest pain, shortness of breath, cough, fever, and weakness. X-ray and CT scans suggest pneumonia, and plaintiff begins receiving IV antibiotics. The following day, he is admitted to the Intermediate Care Unit, where he receives continuous cardiac monitoring. His condition begins to improve over the next few days.
Eight days after his admission to the hospital, the plaintiff is being escorted from the bathroom back to his bed. Less than ten minutes later, telemetry monitoring indicates that his heart rate is dropping significantly and that his PR level changed. The medical records indicate that he is in sinus bradycardia, which is a slow sinus rhythm, with a heart rate of fewer than 60 beats per minute.
He also has an atrioventricular block. An atrioventricular block (or AV block) involves the impairment of the conduction between the atria and ventricles of the heart. The patient's heart rate continues to drop. He develops a 2nd-degree atrioventricular block. This is when the one or more of the atrial impulses do not conduct to the ventricles because the conduction is impaired.
Despite his worsening condition, nurses do not check on the plaintiff for four or five more minutes. When they do, they find him unresponsive, pulseless, and with a heart rate of only 25 beats per minute. CPR is initiated, and his pulse is re-established after about 15 minutes. This resulted in severe anoxic brain injury, and he is transferred to the ICU. He remains in the ICU for half a month and is then transferred to a long-term care facility.
His guardian files this claim on his behalf, alleging that due to the plaintiff being left unattended in his room, without proper oxygen, for a long period, he suffered a severe and permanent anoxic brain injury. He remains in a comatose state and requires 24-hour skilled nursing care.
Additional Comments
The facts as they are laid out in this lawsuit are confusing and the expert report, while sufficient, does not provide a great deal of detail. The case seems to be about a four or five-minute delay. What was the delay, why was there a delay and would it have made any difference if there was not a delay?
Assuming for a minute that Good Samaritan is negligent, the question revolves around damages. There is no question that 24-hour care to a comatose patient is extremely expensive. The question is what is the patient's life expectancy? We do not know who old the man is which is a starting point for the analysis. But you can bet the plaintiff's lawyer thinks the patient will live out his normal life expectancy and the hospital will say that he is going to die any minute. We do not know the real answer because it is very fact specific. But is this is a younger man and the plaintiff can show a long life expectancy, the economic damages could be significant.
Causation may be a defense for Good Sam. The hospital can be expected to argue that even if it were negligent, the victim would have ended up in the same position.
Jurisdiction Defendants
Good Samaritan Hospital of Maryland
Hospitals Where Patient was Treated Negligence
Failure to properly monitor decedent's telemetry
Failure to properly evaluate, interpret and appreciate the significance and seriousness of the changes in decedent's telemetry
Specific Counts Pled Plaintiff's Experts and Areas of Specialty Getting a Lawyer for Your Emergency Room Malpractice Claim
If you suffered a severe injury due to the negligence of a doctor in the emergency room, we will help you get the compensation that you deserve. Call Miller & Zois today to speak with a medical malpractice attorney at (800) 553-8082 or get a case consultation online.
More Malpractice Claim Information