Antibiotic Allergic Reaction Wrongful Death Lawsuit
Taylor v. Southern Maryland Hospital Center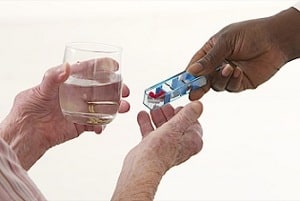 This is a wrongful death medical malpractice lawsuit filed on behalf of a woman's family in Prince George's County after she dies after an allergic reaction to an antibiotic. The case was filed in Maryland Health Claims Arbitration on February 8, 2017. It is 68th medical malpractice case filed in Maryland in 2017.
Summary of Plaintiff's Allegations
Plaintiff goes to the Vascular Access Center of Southern Maryland due to a malfunctioning hemodialysis fistula. Before the procedure, she receives Ancef (an antibiotic), which she develops an allergic reaction. She begins vomiting, feeling ill, and has decreased oxygen saturation. The doctors decide not to perform the procedure and send plaintiff to defendant MedStar Southern Maryland Hospital in Prince George's County. They perform dialysis and discharge her.
Two months later, plaintiff has a corrective procedure for malfunctioning dialysis catheter done at the Vascular Access Center of Southern Maryland. Once again, she is given Ancef, and again, the procedure is not done as she begins to demonstrate a reaction to the drug. She is unable to breathe, feels ill, and becomes unresponsive. She is transferred to Southern Maryland Hospital Center again and is treated appropriately with steroids, Benadryl, and Pepcid.
She is admitted to the hospital from the ER for further evaluations. The records indicate that before the procedure the woman received 1 gram of Ancef as prophylaxis, had trouble breathing and experienced a drop in her blood pressure. She is discharged with a note indicating the complete resolution of apnea after receiving Ancef, but no indication of an Ancef allergy.
Three months later, plaintiff is admitted to MedStar Southern Maryland Hospital again, with blurry vision in both eyes and left-sided weakness. She is evaluated for a stroke. During this hospitalization, vascular access for dialysis is a problem again, and defendant brings the woman to the operating room to place a permacath and gives her 2 grams of Ancef. Within five minutes of administering the Ancef, plaintiff has trouble breathing, feels sick, and has foam forming around her lips. Her respirations become shallow, she becomes hypotensive and is intubated and transported to the ICU. For the first time, an allergy to Ancef is documented.
The following day, plaintiff is transferred to Georgetown University Hospital. She is declared brain dead the next day due to anaphylactic shock induced by the administration of Ancef. The woman dies the next day.
Her Estate files this claim and alleges that the Ancef allergy was suspected in the first trip to MedStar Southern Maryland Hospital, but then confirmed during the second incident. Therefore, it should have been listed as a "known allergy" and not administered. Her Estate alleges that if she would not have been given Ancef that she would have survived the hospitalization.
Additional Comments
Accepting the facts in the Complaint, this is a slam dunk case. The victim has an Ancef allergy and they continue to give her the medication and it causes her death. It is hard to imagine if the communication was clear that a differential diagnosis was not an allergic reaction to the antibiotic. But you can expect the hospital to question the underlying assumption that the allergy killed her and that she had a confirmed allergy.
Ancef, also known by its generic name of Cefazolin, is an antibiotic that belongs to a class of antibiotics known as cephalosporins. Ancef or Cefazolin is a first generation cephalosporin. Penicillins and cephalosporins are chemically related. If you are allergic to one, you are likely allergic to the other (serum sickness like-reactions are different).
The lawsuit does not give the decedent's age but with her serious medical problems and adult children, we can guess that she was older. What are the odds that the decedent did not already know she had an allergic reaction to some antibiotics?
One big question is whether there was an autopsy performed in the case that had findings consistent with an allergic reaction. Were there elevated eosinophils levels consistent with an allergic reaction? Was there a breakdown in capillary permeability that led to increased number of red blood cells in the lungs?
At least 10% of us have an allergy to antibiotics so the victim's allergy is hardly something that would take the hospital by surprise. Counterpoint: many people think they are allergic to antibiotic and they are just wrong.
This is yet another malpractice case filed on the eve of the statute of limitations with no expert report.
Jurisdiction Defendants
Southern Maryland Hospital Center, Inc.
Three doctors
Hospitals Where Patient was Treated
MedStar Southern Maryland Hospital
Georgetown University Hospital
Negligence
Failure to employ appropriate treatment, surgery, tests, and procedures to evaluate the condition of plaintiff
Failure to evaluate the effects of chosen treatment and adjust treatment
Failure to employ appropriate record keeping policies/procedures
Failure to diagnose plaintiff
Specific Counts Pled Plaintiff's Experts and Areas of Specialty Getting a Lawyer for Your Hospital Malpractice Claim
Have you suffered due to the negligence of a doctor? Miller & Zois can help you get the justice and compensation that you deserve. We have a long history of earning large verdicts and settlements in medical malpractice cases in Maryland. Speak to an attorney today who can help you at (800) 553-8082 or get an online case evaluation.
More Malpractice Claim Information