Physical Therapist Medical Malpractice Lawsuit
Hough v. Sports Pro Physical Therapy, LLC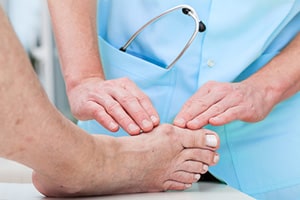 This is a physical therapy medical malpractice lawsuit filed by a woman in Prince George's County. This case is the 67th medical malpractice case filed in Maryland Health Claims Arbitration in Maryland in 2017 and was filed on February 7, 2017.
Summary of Plaintiff's Allegations
Plaintiff becomes a patient at defendant Sports Pro Physical Therapy in Prince George's County due to injuries she sustained in a car accident to her right foot/ankle and her lower back. She receives services on a continual basis for three months and then has a right total ankle arthroplasty done at Georgetown University Hospital.
A month after the procedure, she returns to the defendant physical therapist for rehabilitation of her right ankle. About three months later, the doctor who performed the procedure determines that she has a sustained non-displaced medial malleolar fracture in her right ankle due to the actions of defendant therapist who treated her with a balance board "against medical advice."
The surgeon has to perform an open reduction internal fixation of a medial malleolar fracture. This requires a lengthy period of rehabilitation and therapy. Despite this, the condition of the woman's right ankle further deteriorates, and she has a permanent disability.
Additional Comments
This Complaint has more questions than answers. First, is it a breach of the standard of care to use a balance board to rehabilitate this injury?
The Complaint quotes the doctor as treating the victim with a "multiaxial balance board against medical advice. How as the use of this board against medical advice? Did the orthopedic doctor specifically say not to use a balance board? Were there oral or written instructions? It would seem odd that the doctor would have instructed the physical therapist not to use a balance board?
Was it an acute injury or something the doctor figured out? The Complaint is very awkwardly worded. Did the patient know there was an injury the moment it happened?
The victim claims a permanent ankle injury. Trying to thin slice which injury is from the car accident and which is from the malpractice may be a challenge.
Plaintiff has a real chance of winning this case if the treating orthopedic doctor is fully on board with the allegations in the Complaint. If not, it will be an uphill battle.
This is yet another medical malpractice lawsuit filed on the eve of the statute of limitations without a report from a medical expert.
Jurisdiction Defendants
Sports Pro Physical Therapy, LLC
A physical therapist
Hospitals Where Patient was Treated
Georgetown University Hospital
Negligence
Failure to properly administer physical therapy to rehabilitate the plaintiff's right ankle arthroplasty
Failure to follow instructions and prescription from treating physician
Causing harm and injury to plaintiff from a balance board
Failure to properly instruct plaintiff during physical therapy
Specific Counts Pled Plaintiff's Experts and Areas of Specialty Getting a Lawyer for Your Malpractice Claim
If you have sustained a severe injury due to the negligence of a doctor or nursing staff, our firm can help you. You may be entitled to compensation and justice for the harm you have endured. Call Miller & Zois today at (800) 553-8082 or get a free online case review.
More Malpractice Claim Information