Nursing Home Fall Lawsuit in Anne Arundel County
Knight v. Future Care Chesapeake, Inc.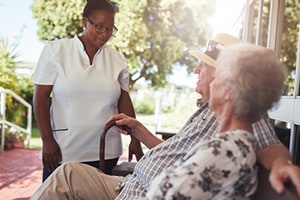 This is a nursing home fall wrongful death lawsuit filed in Anne Arundel County (Arnold) against FutureCare Chesapeake, a nursing home that has struggled to provide quality care according to its Medicare ratings. Miller & Zois is not investigating another wrongful death lawsuit against this same FutureCare facility.
This nursing home lawsuit was filed in Maryland Health Claims Arbitration on February 17, 2017. It is the 85th medical malpractice case filed in 2017 in Maryland.
Summary of Plaintiff's Allegations
A man is admitted to FutureCare with cognitive issues. He has a history of wandering. Future Care received permission to place a device on him to prevent this after he wanders out of the parking lot twice. Two and a half years after his admission, he is found in the parking lot after falling out of his wheelchair. He has neck pain and body aches. He is transported to Baltimore Washington Medical Center, where he is diagnosed with a spinal fracture. He dies three days later as a result of these injuries. His children bring a survival action and wrongful death nursing home lawsuit against FutureCare.
Additional Comments
FutureCare has to provide adequate nursing and other staff to meet each resident's physical needs and to ensure that the resident's well being and safety are properly considered. So they need to do everything that a nursing home, through its nurses, nurse's aides and other staff of ordinary learning or judgment or skill would or would not have done under the same or similar circumstances.
Can wandering like this happen when the nursing home is doing everything that it should be doing? Yes. The reality is that you cannot prevent against every resident who might try to leave. But that does not mean there was no negligence here. FutureCare knew there was a problem. The question of whether they did everything they should do is going to be very fact intensive. Look at this nursing home and its Medicare ratings, there may well be lots of things that this nursing home should have been doing that it was not doing that would make a jury very mad.
According to the Medicare data, FutureCare Chesapeake does not have any patients in restraints. COMAR 10.07.09.14 outlines the specific conditions in Maryland under which physical (or chemical restraints) may be employed by a nursing home to protect the patients or others. Restraints are both underutilized and overutilized. Too often, they are used unnecessarily to make like easier for the staff at the expense of the residents. FutureCare Chesapeake should be commended for resisting that temptation. But the failure to use restraints in more extreme cases can be a mistake.
If not restraints, what could have been done? We do not know all of the facts to speak intelligently to this. But in many other cases, the patient first needs to be assessed for additional measures to reduce or eliminate wandering. This might include a wander guard or other similar alarm alert the staff when the patient is wandering, medication changes, supervision, and redirection, or additional monitoring. One big key is going to be whether the patient was properly assessed for these possible interventions. If there is not a sufficient care plan given the history of wandering, that was documented and implemented, FutureCare will have a real problem.
Some mind-blowing nursing home abuse statistics.
Jurisdiction Defendants
Bay Manor Nursing Home Inc., Future Care Chesapeake
Hospitals Where Patient was Treated
Baltimore Washington Medical Center
Negligence
Failure to adequately prevent the man from leaving the facility
Failure to properly assess the man's risk for escaping
Failure to check any tracking device to determine if it was working
Specific Counts Pled
Wrongful Death
Survival Action
Plaintiff's Experts and Areas of Specialty Getting a Lawyer for Your Nursing Home Negligence Claim
Have you or a loved one sustained a serious injury due to the negligence of a doctor or nursing home staff? Miller & Zois can help you. We have a long history of obtaining large verdicts and settlements in nursing home malpractice cases throughout Maryland. Call (800) 553-8082 today to speak to an attorney or get a free online case review.
More Malpractice Claim Information
Other cases filed against FutureCare facilities in 2017-18:

Medication error case filed in 2018 against FutureCare Old Court after a woman's death
A wrongful death suit against FutureCare Homewood after an unsupervised fall
A fall case filed in Anne Arundel County
A case filed against a P.G. County FutureCare facility alleging bed sores

Another nursing home fall suit filed in 2018 against a Baltimore County nursing home
What are these cases worth in Maryland? Money damages are really all of the civil justice system can do for you. Take a look at the potential settlement value of your nursing home case.