Sex for Drugs Lawsuit in Annapolis
Jane Doe v. Potomac Physicians, P.A.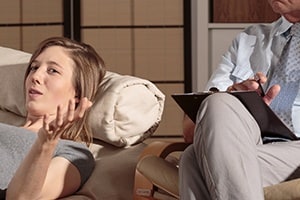 This is an absolutely crazy medical malpractice lawsuit filed by a woman in Anne Arundel County after defendant doctor surrendered his medical license following an investigation by the Maryland Board of Physicians. Then is not a pure sex abuse claim. But it wildly creepy and depressing. It was filed anonymously in Maryland Health Claims Arbitration on February 6th and is the 63rd medical malpractice case filed in Maryland in 2017.
Summary of Plaintiff's Allegations
Plaintiff, 24-years-old, becomes a patient at defendant facility and of defendant doctor in Anne Arundel County. During her first appointment, defendant notes that plaintiff has a history of back pain and prescribes her Percocet (a narcotic pain medication). He does not refer her for radiology studies or to a pain management specialist who treats chronic back pain.
Defendant sees plaintiff once a month. He realizes plaintiff is becoming addicted to narcotic pain medication but continues to prescribe it during each visit. He also begins giving plaintiff prescriptions for Xanax, an anti-anxiety medication. He still does not order tests or referrals to figure out the cause of plaintiff's pain or anxiety.
After several months, defendant begins to make sexual comments to plaintiff. He informs her that if she wants to continue receiving prescriptions, she would have to do something for him. This becomes more explicit as time goes on. Toward the end of her first year of treating with defendant doctor, he asks plaintiff if she has recently had a gynecological exam. Plaintiff tells him she has not and he tells her to lie down and undress. He then has sex with plaintiff and tells her that if she does not do this, he will not prescribe her medication and she will become sick.
This kind of demand continues from defendant in exchange for prescriptions for narcotics and anti-anxiety medication. Almost every monthly visit involves this activity in exam rooms during daytime office visits at Potomac Physicians.
Additionally, defendant prescribes plaintiff these medications at dosages exceeding the therapeutic levels and without a pain management plan. He prescribes Percocet, Dilaudid, Vicodin, OxyContin, Xanax, Fentanyl, Ambien, Restoril, Adderall, and cough medicine with Codeine. Defendant advises her that to fill her prescriptions at different pharmacies and to use her insurance at large pharmacies while using cash at small, local pharmacies. He writes prescriptions using both her married name and maiden name. He files a police report stating plaintiff's pills were stolen so he could re-write the same prescriptions. Plaintiff further alleges that at times defendant would give her pills from his desk.
During the inappropriate activity one day, plaintiff screams loudly so as to alert people outside of the room. Defendant backs away and plaintiff leaves the exam room. She reports to the Site Administrator what defendant had done and tells her that he had been demanding sex in exchange for narcotic prescriptions and she intends to call the police. The site administrator returns to the room with defendant and tells him to leave the practice and never return. (If this is true, you have to wonder why they believed her so quickly.) After this encounter, however, defendant writes another prescription, asking plaintiff if it will keep her quiet.
Three days later, plaintiff receives a letter in the mail from Potomac Physicians. The letter discharges her as a patient because she had "not followed the directions of her doctor as it relates to chronic use of narcotic medications" and she demonstrated inappropriate behavior toward the staff.
Months later, defendant calls plaintiff and tells her that he is unable to see her during normal office hours but informs her that he will meet her after hours to continue writing prescriptions in exchange for sex. Due to her addiction leading her to begin using heroin and other drugs, plaintiff agrees.
For the next three year, plaintiff continues to meet defendant doctor during evening hours at defendant facility. Defendant calls her each month and tells her when and where to meet him. Maryland Board of Physicians begins an investigation into him. Plaintiff alleges that employees of the facility should have known about these meetings and relationships.
A lab technician who worked at defendant facility admits to Maryland Board of Physicians about the inappropriate sexual comments made to her at work. She also states she is aware of the inappropriate relationships with female patients, including plaintiff.
Plaintiff files this claim against defendant doctor and facility after the Board of Physicians concludes that defendant doctor failed to properly document physical exams and plans for chronic pain patients, failed to enforce narcotics contracts with patients, failed to document the justification for narcotics dosages, and disregarded red flag signaling the abuse of narcotics. She alleges that she continues to suffer economic, physical, emotional, and psychological harm. She has become addicted to prescription medication, has been hospitalized several times, and has developed a criminal record.
Additional Comments
This is a tough case. It will not be surprising if an Anne Arundel County jury hates both parties. Clearly, the doctor is a bad actor who has been punished. The question is whether the jury would feel any sympathy towards the victim. She is blaming being a drug addict and having a criminal record on the doctor and his practice. It will be really interesting to see how this claim plays out.
The treatment began in 2009 so there may be limitation issues on parts of the claim.
The lawsuit names "Jane Doe" as the plaintiff. Rule 2-201 arguably would prevent this plaintiff from proceeding under a fictitious name: "Every action shall be prosecuted in the name of the real party in interest...." One Maryland case drives by this issue even though it is not raised by the parties. Is this a plaintiff entitled to confidentiality?
Miller & Zois usually does not name doctors on our website who are sued in these Maryland malpractice cases. These lawsuits are usually just allegations. But we all know the score here and bend the rule accordingly. The doctor surrendered his medical license. We also named the doctor in this case, which was the first malpractice case filed in Maryland in 2017. In this case, the plaintiff sued Kaiser and the doctor alleging inappropriate sexual touching.
Jurisdiction Defendants
Joseph C. Randall, Jr., M.D.
Potomac Physicians, P.A.
Negligence
Failing to perform appropriate physical examinations
Failing to timely refer plaintiff for other methods of pain management besides medication management
Prescribing medication to plaintiff including narcotic pain medication, anti-anxiety medication, and sleep medication at levels exceeding therapeutic dosages
Failing to create terms of narcotics contracts with plaintiff
Disregarding red flags that plaintiff as abusing narcotics
Hiring defendant doctor when they should have known he was acting inappropriately towards female patients
Failing to supervise defendant doctor in his interactions with female patients
Retaining defendant doctor when they should have known that he was inappropriately prescribing medication and using his position of power to take sexual advantage of his patients
Specific Counts Pled
Negligence
Battery
Intentional Infliction of Emotional Distress
Plaintiff's Experts and Areas of Specialty Getting a Lawyer for Your Malpractice Claim
If you have suffered an injury due to the negligence of a doctor, the attorneys at Miller & Zois can help you. Call us today and speak to a medical malpractice attorney at (800) 553-8082 or get a free online case evaluation.
More Malpractice Claim Information
A similar case filed against a Kaiser Permanente doctor in P.G. County in 2017
It is hard to call this a medication error case, right? Still, here are the common types of medication error lawsuits and verdicts and settlements in these cases. This will tell us nothing, of course, about the value of this case.