Failure to Diagnose Heart Attack Lawsuit Against GP
Caroselli v. Fairhill Family Medicine Associates, LLC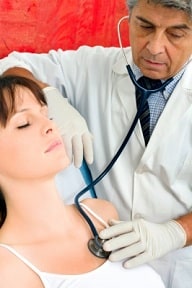 This is a wrongful death failure to diagnose a heart attack medical malpractice case filed on behalf of a man against in Cecil County against his primary care provider. It was filed in Health Claims Arbitration on February 6, making it the 66th medical malpractice case filed in 2017 in Maryland.
Summary of Plaintiff's Allegations
Plaintiff, a 46-year-old man, is a patient of defendant facility and defendant doctor in Cecil County. His past medical history includes chest discomfort, an abnormal EKG, and cardiac intervention the prior year. Additionally, he has a history of heavy tobacco use, hypertension, and a family history of coronary artery disease and sharp pain in his chest.
Defendant evaluates him for chest pain that increases with Adderall use and administers an EKG. Defendant doctor interprets this as abnormal and a myocardial infarction. Seven months later, another EKG is done, with the same results.
A year and a half passes and then defendant evaluates plaintiff again when he presents with hypertension. Defendant doctor requests lipid studies.
Two years go by and plaintiff begins to experience significant chest pain. Defendant approves him for a cardiac consultation. During the consultation, plaintiff describes his pain as sharp and stabbing on the left. The cardiologist does a regular exercise stress test and the results are normal.
Flash forward ahead almost two years and the plaintiff returns with chest pain and heartburn. Defendant gives plaintiff a prescription for Omeprazole. Two days later, plaintiff wakes up with pain and is uncomfortable, but can fall back asleep. When his alarm goes off, his wife is unable to wake him, and calls 911. EMS provides CPR, but is unable to resuscitate him and pronounces him dead.
An autopsy concludes that plaintiff died from atherosclerotic coronary artery disease. His family alleges that if defendants would have timely referred plaintiff to a medical specialist for testing and treatment of coronary artery disease that he would not have died.
Additional Comments
If this case goes to a jury, it will have two easy questions to answer. The first is should the doctor have done more when the patient presented with chest pain and heartburn? The second is if the doctor had done more, would it have made a difference?
There are two kinds of "do more." Was the standard of care to give him the name of a specialist and send him on his way? That would have been unlikely to make a difference. But if the standard of care was to send him to the emergency room, that is a different story because there is a possibility that would have changed his outcome.
The failure to do even an EKG is very problematic for the doctor.
Jurisdiction Defendants
Family medicine doctor
Fairhill Family Medicine Specialists, LLC
Negligence
Failure to treat plaintiff and recognize his medical condition, signs and symptoms indicating suffering from coronary artery disease
Failure to properly refer plaintiff to an appropriate medical specialist for testing of coronary artery disease
Specific Counts Pled
Medical Negligence - Survival Action
Medical Negligence - Wrongful Death
Plaintiff's Experts and Areas of Specialty Getting a Lawyer for Your Wrongful Death Malpractice Claim
Do you know someone who has suffered a permanent injury or death due to the negligence of a doctor or medical staff? Miller & Zois has a long history of earning large verdicts and settlements in Maryland medical malpractice cases. Give us a call today and speak to an attorney waiting to help you at (800) 553-8082 or get an online case review.
More Malpractice Claim Information