Colonoscopy Malpractice Lawsuit in Baltimore City
Brooks v. Mercy Medical Center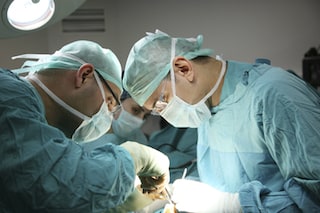 This is a surgical colonoscopy malpractice lawsuit filed after a woman's mesenteric artery was lacerated during a colonoscopy. It was filed in Baltimore City on February 24, 2017, and is the 92nd medical malpractice case filed in Maryland in 2017.
Summary of Plaintiff's Allegations
An 87-year-old woman has a colonoscopy done at Mercy Medical Center in Baltimore City by defendant doctors. Immediately after, she begins to have pain in her abdomen and lower back. Early the next morning, she is admitted to the ER at Mercy. The doctors find that her bowels are full of blood. They discover that during the colonoscopy, defendants caused a tear in her mesenteric artery, resulting in bleeding after the procedure.
The woman has an emergency laparotomy and splenectomy done in an attempt to stop the bleeding. However, she suffers a stroke while in the ICU and dies a few weeks later due to septic shock, pneumonia, and stroke.
Additional Comments
This woman had a very large family. There are eight wrongful death beneficiaries.
The victim was 87 years old and had just had a colonoscopy in January. The reason for another colonscopy is unclear.
Plaintiffs allege in their lawsuit the res ipsa loquitur. While the doctrine can be theoretically can be applied in a Maryland malpractice case, but it is impossible to imagine any scenario where res ipsa would be applied to this case.
There is an informed consent case here that is hard to get a handle on because the facts are not fully explained.
Older patients are at risk for a splenic injury from a colonoscopy. If there is a case here, it is likely to be in the discharge, particularly if the woman reported abdominal pain before she was released. It will be important how many hours passed between the discharge and her return to the hospital. The doctors are going to argue that even if it was negligence to release the patient, she would have had and died during the same surgery.
This is a hard case to access without seeing the medical records. That said, the average settlement value of a colonscopy malpractice case filed after the death of a 87-year-old woman on the eve of the statute of limitations without an expert is probably pretty low.
Jurisdiction Defendants
Mercy Medical Center, Inc.
Maryland Family Care, Inc.
Drs. Schreiber & Kelsey, LLC
A gastroenterologist a Mercy
An internist at Mercy
Hospitals Where Patient Was Treated Negligence
Negligently performed a colonoscopy on an elderly patient who wasn't suffering from acute bleed or alarm factors making the colonoscopy emergent
Failing to diagnose tears in the spleen and mesenteric artery resulting from the colonoscopy
Failure to properly examine, treat, monitor, test and screen the woman
Negligently administering or failing to administer medication
Failure to inform the woman of the risks involved with a colonoscopy
Specific Counts Pled
Negligence
Lack of Informed Consent
Wrongful Death
Plaintiff's Experts and Areas of Specialty Getting a Lawyer for Your Surgical Malpractice Claim
If you sustained a serious injury due to the negligence of a doctor, our firm can help you get the compensation and justice that you deserve. Miller & Zois has a long history of results in medical malpractice cases in Maryland, earning large verdicts and settlements. Call our attorneys today at (800) 553-8082 or get a free online case review.
More Malpractice Claim Information