Misdiagnosis Leads Amputation in Germantown
Burdette v. Medical Access, Inc.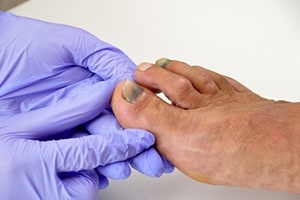 This failure to diagnose case was filed by a man in Montgomery County after defendants fail to diagnose potential gangrene condition, leading to a leg amputation. This suit was filed in Maryland Health Claims Arbitration on February 14, 2017, making it the 78th malpractice case filed in Maryland in 2017.
Summary of Plaintiff's Allegations
Plaintiff goes to Medical Access, an urgent care walk-in clinic in Germantown, Maryland. He complains of pain in his right foot, including intense discomfort and a cold sensation. Defendants examine his feet and tell him that everything is normal. They give him Tylenol and diagnose him with plantar fasciitis. Plantar fasciitis is a non-serious condition that usually goes away with time and good footwear. The remedy prescribed for this man is stretching exercises.
Two weeks later, the man returns to defendants with worsening symptoms. His toes are cramping and his heel is bruised. His feet remained cold and painful. This time, the defendants evaluate his feet thoroughly and find a red hematoma in his right heel. They do not order an ultra-sound or pulse exam to determine the condition of the man's circulation.
Three days later, the man returns with the same complaints, indicating that the treatment plan is not working. The hematoma is growing and causing him pain. However, defendants still do not perform a pulse exam or duplex ultrasound. They order an x-ray, which reveals calcaneal spurs on the man's right foot. It is pretty hard to imagine that this could have been the cause of these symptoms. But they send him home.
After a few more days, the man returns once again, with critical symptoms. The duplex ultrasound is finally ordered. This reveals that there is no blood flow to the man's right leg. Plaintiff consults with a vascular surgeon two weeks later. He is diagnosed with gangrene of the right leg. His leg is amputated.
Plaintiff files this complaint against the defendants, alleging that their failure to diagnose an apparent potential gangrene condition caused him to lose his leg.
Additional Comments
Both vascular ulcers and gangrene (which means "dead tissue") of the lower extremity are part of the ulceration process. Both are caused by peripheral arterial disease.
Chronic ischemic nonhealing ulceration or gangrene happens in a minority of patients. It should have been another critical sign to evaluate and treat this man for serious vascular disease. The Complaint is not long on facts. But it sounds like the tissue becomes blackened (or "mummified"). But the hematoma was likely not measured.
What were this man's risk factors? It is assumed he has diabetes and hyperlipidemia (risk factors for vascular disease and gangrene). But we really do not have a lot of facts.
I'm convinced that the success rate of malpractice cases is highly correlated to whether the fonts and spacing on the Complain are normal.
Jurisdiction Defendants
Medical Access, Inc.
Three doctors individually at the Medical Access
Negligence
Failure to appreciate plaintiff's condition
Failure to order appropriate tests and diagnose potential gangrene
Specific Counts Pled
Negligence - Medical Malpractice
Respondeat Superior
Plaintiff's Experts and Areas of Specialty Getting a Lawyer for Your Failure to Diagnose Malpractice Claim
If you have suffered due to the negligence of a doctor, Miller & Zois can help you. Call us today and speak to an attorney who can help you at (800) 553-8082 or get a free online case review. We have a long history of results in medical malpractice and nursing home cases in Maryland, earning large verdicts and settlements.
More Malpractice Claim Information