Malpractice Lawsuit After Hemorrhoid Surgery Complications
Collins v. Defendant Doctor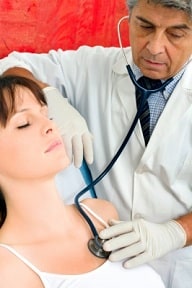 This is a surgical malpractice lawsuit filed by a woman in Prince George's County. It is the 65th medical malpractice case filed in 2017 in Maryland, and was filed in Health Claims Arbitration on February 6, 2017.
Summary of Plaintiff's Allegations
The plaintiff in this case has an unfortunate medical history includes Crohn's disease, hypertension, fibromyalgia, a fibroid tumor, and colon cancer that was treated with chemotherapy and radiation therapy. She has a colonoscopy done due to abdominal pain, which reveals polyps. An anoscopy is done that reveals hemorrhoids and an anal fissure.
She is then seen by a gastroenterologist at Fort Washington Medical Center after experiencing abdominal pain, constipation, and bleeding for a week. The doctor does a colonoscopy, which reveals internal and external hemorrhoids as well as a prior colon surgery. The gastroenterologist's plan of care includes fiber, stool softeners, hydrocortisone suppositories, and consideration of a hemorrhoidectomy. She refers plaintiff to defendant doctor in Prince George's County.
During the initial consultation with defendant doctor, plaintiff indicates a 1997 colectomy and defendant documents bleeding from hemorrhoids, moderate inflammation, and pain during the exam. Defendant doctor schedules a rigid sigmoidoscopy and hemorrhoidectomy with general anesthesia. Defendant doctor does not inform plaintiff that one of the risks of hemorrhoid surgery is anal stricture, nor does he offer other options.
The surgery is done at Fort Washington Medical Center. The surgical note indicates that hemorrhoids are pulled out and sutures are placed. After the procedure, plaintiff begins to experience more severe rectal pain that is not relieved with medications or treatments, and she also has severe constipation.
A month after the surgery, she reports pain at a 10/10 to defendant who is unable to even exam her due to pain. He does an exam under anesthesia and finds stricture with anal sphincter healing causing the pain. Three days later, he takes plaintiff back to surgery. He diagnoses her with status post internal and external hemorrhoids, anal stricture, and fecal impaction. A rectal stricture is essentially a fixed ring in the rectum. The rectum is usually an organ which is soft and pliable. There is an opening at the anus with a muscle mechanism around it which has some muscle tone to it. But inside the rectum its usually soft, pliable and moveable which is necessary for normal function.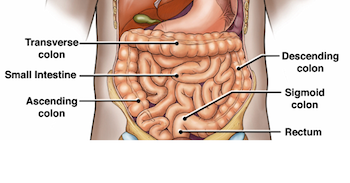 One month later, plaintiff goes to the University of Maryland Charles Regional Medical Center with rectal impaction causing bowel obstruction due to the stricture caused by defendant's procedure. A few months later, defendant takes plaintiff back into surgery at Southern Maryland Hospital. The surgeon would hope to break up the stricture in intermittent places around it in the hopes that it could be opened and give the woman some relief for the symptoms that she was still having. But plaintiff continues to have rectal pain, difficulty defecating, and severe constipation.
Plaintiff decides to seek a consultation at Johns Hopkins Bayview Medical Center two and a half months after the latest procedure. An exam reveals a scar from a previous hemorrhoidectomy that is not healed and an exposed painful sphincter muscle. The doctor performs an exam that reveals a circumferential scar from a prior hemorrhoidectomy with an open wound. The doctor performs several procedures to correct the hemorrhoid surgery performed by defendant.
Plaintiff files this claim, alleging that she suffered permanent injuries that are only transiently relieved by anal dilation due to defendant's negligence.
Additional Comments
If you are reading a lot of these case summaries, this will sound like a broken record to you. But this is yet another case filed on the eve of the statute of limitations. There is rarely a good reason to wait so long to file a lawsuit.
There is no question that anal stricture is a possible complication following haemorrhoidectomy. One study shows a 3.8 percent incidence rate. But the same study also showed none of the 27 patients that developed a rectal stricture had a recurrent stricture after three months.
For the surgical error part of the case, plaintiff's expert will need to say there was excessive removal of hemorrhoid tissue beyond that necessary to solve plaintiff's problem.
Plaintiff's long and complicated health history will make her claim more challenging.
Jurisdiction Defendants
A Fort Washington surgeon
Hospitals Where Patient was Treated
Fort Washington Medical Center
University of Maryland Charles Regional Medical Center
Southern Maryland Hospital
Johns Hopkins Bayview Medical Center
Negligence
Failure to obtain a directed history and physical exam
Failure to properly assess, diagnose, monitor, and treat plaintiff's condition and failure to offer non-surgical options
Failure to inform plaintiff of the material risks associated with hemorrhoid surgery
Negligently performing the hemorrhoid surgery by removing too much tissue and causing a circumferential scar
Failure to order diagnostic testing to treat plaintiff's condition and failure to manage her condition post-surgery
Specific Counts Pled
Negligence - Medical Malpractice
Negligence - Lack of Informed Consent
Negligence - Loss of Consortium
Plaintiff's Experts and Areas of Specialty Getting a Lawyer for Your Surgical Malpractice Claim
If you have sustained a severe injury due to the negligence of a doctor, our firm can help. Miller & Zois has a long history of results in surgical malpractice cases in Maryland, earning large verdicts and settlements. Call us today to speak to a medical malpractice attorney at (800) 553-8082 or get a free online case review.
More Malpractice Claim Information