Lawsuit Against Patient First and ENT Doctor
Logue v. Patient First Corporation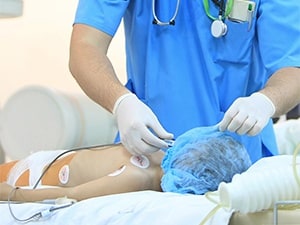 This is a wrongful death surgical malpractice case filed on behalf of a woman in Harford County. It was filed by her Estate on February 1, 2017, and is the 58th medical malpractice case filed in Maryland in 2017.
Patient First malpractice lawsuit filed in 2018. This claim alleges that an intermuscular injection was improperly administered causing Complex Regional Pain Syndrome
Another lawsuit against Patient First filed in May 2017
Summary of Patient's Allegations
A woman is a patient at Patient First Corporation for eleven years, primary at the Bel Air location. She also goes to the location in East York for various ailments, sicknesses, and physicals.
The woman goes to an ear, nose, and throat doctor at Drs. Gehris, Jordan, Day & Associates, LLC)with nasal obstruction and constant nasal congestion. They do an examination and obtain her medical history, including obesity, asthma, potential sleep apnea, and a potentially deviated septum. They also find that she has a moderately deviated septum, hypertrophy of the nasal turbinates and dysphagia. They perform a nasal endoscopy and give her prescriptions for Zithromax, Prednisone, and a barium swallow medication.
Three months later, Patient returns to Drs. Gehris, Jordan, Day with nasal obstruction and nasal congestion. She tells them that she has had sore throats 3-4 times each year for the past three years and that she has had strep throat 1-2 times each year. They recommend that she has a septoplasty and tonsillectomy, and schedule the surgery to take place in a month. The patient forwards the pre-op testing paperwork to Patient First, who is asked to do a history, physical, EKG, and some lab work.
When the patient goes to Patient First for pre-op testing, her EKG correctly as abnormal due to sinus tachycardia, negative T-waves, and anterior ischemia. The doctor at Patient First decides that she needs cardiac clearance for surgery, so they refer her to a cardiologist. The cardiologist finds the results of her test to be normal, and that she is a low-risk surgical candidate from a cardiac perspective. However, the cardiologist notes that she is concerned with her respiratory status and whether she is an optimal surgical candidate from a reactive airway standpoint, which is nice hustle on the cardiologist's part. These results and recommendations are sent to Patient First.
When the records get to Patient First, they are scanned into the electronic medical file. They are faxed to Dr. Gehris, Jordan, Day & Associates. Defendant doctors review the reports, including the cardiologist's concerns about Patient's respiratory status, but they do not order or perform any respiratory workups or consultations.
As the surgery had to be postponed while awaiting the cardiac pre-op results, Dr. Gehris, Jordan, Day & Associates forwarded another set of pre-operative testing orders to Patient First that does not include a request for respiratory/pulmonary clearance. The pre-operative testing is done, and the doctors indicate that the woman is cleared for surgery. This is done without any respiratory or pulmonary workups despite the concerns raised by the cardiologist.
Defendant doctor administers anesthesia on the day of patient's surgery. After the surgery, the patient is taken to the Post-Anesthesia Care Unit at SurgCenter where she is placed on an oxygen saturation monitor. She is given Dilaudid for her pain twice, and then her oxygen levels begin to drop, and she is using "IS" to maintain her oxygen Saturday levels. But when she is evaluated by the defendant doctor, he recommends that she be discharged despite her decreased breath sounds and wheezing.
The woman is given Albuterol, and her oxygen levels begin fluctuating. She is taken out of bed and dressed. Defendant doctors are informed of her fluctuating oxygen levels, but all agree to discharge her with no further monitoring. She is instructed to sleep upright and given a prescription for Percocet.
The following morning, the patient husband finds her unconscious and without a pulse. One of her sons attempts CPR and calls 911. EMS arrives, however, the patient is unable to be revived.
Her Estate alleges that the decedent should have received a work-up before her surgery regarding her respiratory and pulmonary issues. Additionally, they allege that she should not have been discharged due to her condition following surgery.
Additional Comments
One of the things we talk about in our office is whether you can explain a malpractice case in 20 words or less. We wrestle with cases like this. There seems to be negligence in the air with mistakes everywhere. But is their negligence and causation?
Was an autopsy done? What were the findings? These are important questions.
Only looking at the complaint, it seems like the discharging doctor is most on the hook. She made it through the surgery well enough that the doctor thought she should be discharged. That makes it harder to go back and say she could not survive the surgery because of preexisting respiratory or pulmonary issues.
Patient First seems the least culpable. A Harford County jury might struggle with the idea that they should have to send the paperwork over to the ENT people twice.
Jurisdiction Defendants
Patient First Corporation, Patient First Urgent Care
A staff physician at Patient First
Drs. Gehris, Jordan, Day & Associates, LLC - ear, nose, and throat specialists
SurgCenter of Bel Air, LLC
American Anesthesiology of Maryland, P.C.
A pain management specialist at SurgCenter of Bel Air
Negligence
Failing to timely recognize, assess, and respond to Patient's respiratory/pulmonary status prior to her surgery
Increasing Patient's risk of experiencing an adverse event by improperly clearing her for surgery
Failing to address the respiratory/pulmonary concerns recommended by the cardiologist
Failing to properly work up Patient to discover and treat the source of her history, signs, symptoms, and findings related to her respiratory/pulmonary status
Failing to properly recognize that Patient was not a proper surgical candidate under the circumstances
Failing to properly avail themselves of the information, test results, studies, opinions, etc. regarding the patient that were available
Specific Counts Pled
Negligence - Survival Action
Wrongful Death
Patient's Experts and Areas of Specialty Getting a Lawyer for Your Surgical Malpractice Claim
If you have suffered a permanent injury due to the negligence of a doctor, hospital, or medical facilities, our law firm can help you. You are entitled to justice and compensation, and we have a long history of obtaining results in medical malpractice cases in Maryland, earning substantial verdicts and settlements. Give us a call today and talk to one of our medical malpractice attorneys at (800) 553-8082 or get a free online case review.
More Malpractice Claim Information