Pain Pump Misfill Lawsuit Against Holy Cross
Brown v. Holy Cross Hospital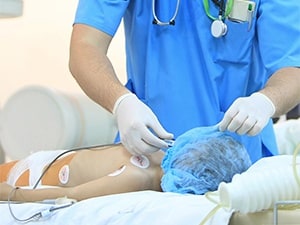 This is a lawsuit filed by a woman who was having her intrathecal pump refilled with pain medication when the doctors miss the refill site, and inject the medications directly into her soft tissues, causing an overdose. It was filed in Health Claims Arbitration on February 24, 2017, and is the 91st medical malpractice case filed in 2017 in Maryland. It is the first case filed against Holy Cross in 2017.
Summary of Plaintiff's Allegations
Plaintiff suffers from chronic regional pain syndrome. She receives treatment from defendants at Holy Cross, including surgical placement of an intrathecal pump for medication and periodic refills of the pump.
The woman is seen at Pain Management at Holy Cross to have a refill of the pump. Defendants order her pump to be refilled with 160mg of Dilaudid and 16 mg of Clonidine. During the procedure, the defendants miss the refill port of the intrathecal pump. This results in the medication being injected directly into the woman's soft tissue. Almost immediately, the woman loses consciousness, and requires intubation to protect her airways. She stays hospitalized for ten days.
As an additional result of the overdose, the woman suffers a cerebral hemorrhage and suffers from severe headaches, confusion, and word loss. She brings this claim, alleging that her injuries are severe and permanent.
Additional Comments
Plaintiff's argument: The standard of care a pain pump refill procedure typically requires the insertion of a needle into the correct refill port located within the pump by the use of a manufacturer-supplied plastic template or under x-ray fluoroscopy or ultrasound imaging guidance. The doctor needs to verify the needle placement by contact of the needle against the internal metal backstop within the pump. If after all of this the doctor is unsure, the refill attempt should be abandoned until fluoroscopic or x-ray imaging is available to make sure the needle insertion is correct. If you don't do these, things and needle placement outside of the pump, the drug might go into the soft tissue like it did in this case.
Defense argument: It is a known risk of filling intrathecal pain pumps that the medication can be injected into the subcutaneous tissue, particularly if the patient is overweight. The risk is listed on the package insert of these pumps. So their argument is that it is not below the standard of care to put these drugs into the subcutaneous tissues as long as it is promptly recognized (which it probably was here because they make no contention otherwise.
The implantation of an intrathecal morphine pump is not a "first-line" defense in pain management. It is a last resort because it involves a serious risk of respiratory depression, cognitive injury, cardiac arrest and death. So one of the challenges for plaintiff's malpractice lawyers is going to be able to distinguish her injuries as new because she was obviously suffering a great deal to need the pump in the first place. How big of a hill will this be to climb? It is going to depend on the patient's prior medical records.
Plaintiff's lawyers in the case are from a respected law firm known for doing insurance defense. They do not frequently bring medical malpractice cases.
Jurisdiction Defendants
Holy Cross Hospital, Inc.
Holy Cross Hospital of Silver Spring, Inc.
Holy Cross Health Foundation, Inc.
Holy Cross Anesthesiology Associates, P.A.
Holy Cross Hospital Pain Management Center
Trinity Health Corporation
Trinity Health & Wellness, LLC
An anesthesiologist at Holy Cross
A CRNP
Nurse John Doe
Hospitals Where Patient was Treated Negligence
Failing to properly position the plaintiff for pain pump refill procedure
Failing to take necessary steps to ensure the pain pump was properly positioned
Failing to ensure that the needle with the refill medication was properly positioned in the pain pump's refill port before delivering medication
Specific Counts Pled Plaintiff's Experts and Areas of Specialty Getting a Lawyer for Your Hospital Malpractice Claim
If you have sustained an injury due to the negligence of a doctor or medical staff, we can help you. Miller & Zois can help you get the justice and compensation that you deserve for what you have endured Call us today at (800) 553-8082 or get a free online case review.
More Malpractice Claim Information