FutureCare Wrongful Death Fall Lawsuit
Walker v. FutureCare Homewood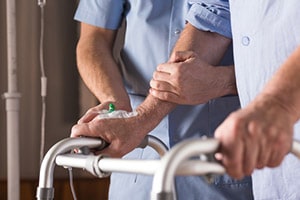 This nursing home wrongful death claim against FutureCare was filed in Baltimore City after a man suffered fatal injuries in an unsupervised fall. It was filed in Health Claims Arbitration on January 26, 2018, and it is the 49th medical malpractice case filed in Maryland this year.
Summary of Plaintiff's Allegations
At age 62, a man was admitted to FutureCare Homewood for rehabilitation following a six-week long hospitalization for pneumonia and respiratory failure. At the time of his admission, the man was a high fall risk due to his immobility, unsteady gait, fecal incontinence, use of opioid medications, and generalized weakness. He was also at risk for bleeding because of the medications he was taking.
Less than twelve hours after his admission, the man suffered an unsupervised fall in his room. He was found on the floor, bleeding from his nose and chin. Three days later he suffered another fall. He initially denied pain, but later that day he developed significant pain requiring morphine. The morning after his second fall, the man became unresponsive and was transferred to Union Memorial Hospital.
The man passed away a few hours after his admission to the hospital. He had been diagnosed with several hematomas and an intraventricular hemorrhage.
Additional Comments
According to the claimant's expert witness, a geriatrics and internal medicine doctor, FutureCare never implemented any fall prevention strategies or interventions to address the man's obvious fall risk factors. Even after his first fall, there was no adequate post-fall evaluation and no fall risk issues were addressed.
The nursing records reflect that the man did not want to notify his sister about his first fall and he refused transport to the emergency room; however, the records also demonstrate that his capacity to make his own decisions was impaired. It does not seem as though these risk issues were discussed with his attending physician.
During his hospitalization at Mercy Medical Center before his admission to FutureCare, the man has prescribed a full dose of anticoagulation medication for his tendency to form deep vein blood clots. Because he was on anticoagulation medication, his health care providers should have recognized the elevated danger of a head trauma and immediately transported him to the emergency room.
Our national awareness of how many people die and suffer from nursing home falls may be one of these things we look back on in 20 years and be amazed at how callous we were to the problem.
Jurisdiction Defendants
Charles Street Health Care, LLC d/b/a FutureCare Homewood
Hospitals Where Patient was Treated
Mercy Medical Center
Union Memorial Hospital
Negligence
Failing to develop and implement an appropriate care plan to minimize the man's risk of falling.
Failing to provide adequate supervision.
Failing to timely diagnose, document, and treat the injuries that the man sustained during his fall.
Failing to timely transfer the man to a facility that could meet his medical needs.
Specific Counts Pled
The nursing home's negligence caused the man to sustain painful and fatal injuries.
Plaintiff's Experts and Areas of Specialty
Thomas E. Lawrence, M.D., C.M.D., Geriatrics and Internal Medicine
Getting a Lawyer for Your Malpractice Claim
Have you suffered a hospital injury due to the negligence of a doctor? Miller & Zois can help you. Call us at (800) 553-8082 and speak to one of our medical malpractice attorneys who can help you or get an online case review.
More Malpractice Claim Information