Mitchellville Maryland Bed Sore Lawsuit
Bomher v. Villa Rosa Nursing and Rehabilitation Center, LLC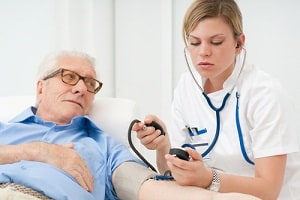 This is a medical negligence suit brought by a former in-patient nursing home resident. The defendant is Villa Rosa Nursing and Rehabilitation Center, which is located in Mitchellville, Maryland. This claim was filed in the Health Care Alternative Dispute Resolution Office on January 2nd, 2018. This is the second medical malpractice suit filed in the State of Maryland in 2018.
Suits alleging that nursing homes have mistreated their elderly patients are growing more common by the day. Part of this is an increased awareness of the elder abuse that occurs in senior living facilities. It has been a slow road but the way we treat our seniors is starting to earn a place in the popular culture. TV shows like "Better Call Saul" are running storylines about the abuse and predatory practices older people often face in nursing homes. This suit showcases a variety of ways the defendant allegedly ignored and mistreated an elderly person already suffering from a serious injury.
Summary of Plaintiff's Allegations
In November of 2017, the elderly female plaintiff is admitted to Villa Rosa Nursing and Rehabilitation Center. She was admitted to the facility after having surgery to repair a pelvic fracture from a car accident. While a resident, the plaintiff develops an infection at the site of her surgery wound. She also claims that she was forced to wear diapers containing waste that weren't changed for hours on end. The patient believes the diapers, which were too small for her, also caused painful chafing and pinching. Lastly, the patient alleges she was not given pain medication prescribed by her doctor, fed properly or helped with necessary personal hygiene tasks.
Case Analysis
The plaintiff's strongest claims in this suit are the surgery site infection and the accusation that she was not changed out of her soiled diapers for long periods. Comparing her allegations to the relevant nursing home standards and the defendant's own written protocols will be important.
The potential verdict or settlement value of this case is going to depend on the severity of the patient's infection and what kind of long term impact it may have had. The complaint doesn't tell us anything about any injuries she sustained from the defendant's negligence besides the mention of an infection. It will be interesting to see what her medical experts have to say, particularly what her estimated life expectancy is now versus before she was admitted. There are not many nursing home lawsuits that describe less serious injuries in the Complaint. Honestly, the complaint reads like she the big beef is she received poor care. Our office would expand to 1,000 lawyers if we took ever case where someone received extremely poor nursing home care.
Most nursing home cases are death or extremely serious injury cases. It is rare for us to file a case on behalf of a living patient as opposed to family members and the estate of a deceased person. The upside to having a living plaintiff, of course, is the ability to discuss her mistreatment.
This lawsuit was filed a month after the allegedly negligent care. This pretty much only happens on television.
Plaintiff's Expert Witnesses
Plaintiff did not name an expert with the complaint.
Alleged Negligence
Defendant failed to assist patient with daily hygiene needs, despite her pleas.
Defendant forced her to wear poorly fitting adult diapers which caused her physical discomfort.
Defendant failed to change soiled diapers for up to periods of six hours.
Defendant provided patient with inadequate meals which were inedible and did not meet her dietary needs.
Defendant allowed a surgery wound to become infected after failing to properly change her bandage dressings as needed.
Defendant refused to provide patient with prescribed pain medication.
Defendant caused plaintiff emotional anguish by subjecting her to verbal abuse and disrespect.
Jurisdiction Maryland Nursing Home Cases
There are a lot of bed sore nursing home cases that get filed in Maryland. Here are a few:
Getting a Lawyer for Your Nursing Home Negligence Claim
Have you or a loved one suffered an injury due to poor nursing home care? You are entitled to justice and compensation for the harm done to you. We specialize in health care provider malpractice claims, often getting lucrative verdicts or settlements for our clients. Miller & Zois is here to help you. Get a free online case review or call us today at (800) 553-8082.