Cancer of Larynx Misdiagnosis Lawsuit
Inmate Delayed Diagnosis Lawsuit in Maryland
Lookingbill v. Wexford Health Services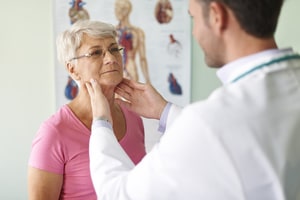 This is a cancer misdiagnosis medical malpractice lawsuit brought by an inmate at Western Correctional Institution in Cumberland Maryland. The defendant is the prison's medical care provider Wexford Health Services. Medical malpractice cases in Maryland must first be filed in Health Claims Arbitration. This claim was filed in the Health Care Alternative Dispute Resolution Office on January 2nd, 2018. This is the first medical malpractice suit filed in the state of Maryland in 2018.
Maryland prisoners file a number of medical malpractice cases every year. Regardless of the merits of the case, most are doomed to fail. Typically, the prisoners do not have a medical malpractice lawyer. More importantly, they rarely have a certifying expert to offer the opinion that the treating doctor or nurse breached the applicable standard of care. This lawsuit is atypical of a prison malpractice claim because the suit was filed by an attorney with a certifying expert's opinion that the Wexford breached the standard of care.
Summary of Plaintiff's Allegations
In April 2015, the plaintiff is seen with a cough and sore throat. He has a history of asthma and was a smoker. He is given Amoxicillin after an examination shows normal findings. Roughly two months later, he returns with an inflamed sore throat and difficulty speaking. His conditions persist, leaving him unable to swallow food or water without pain. Although Lookingbill is finally examined by an ear, nose and throat specialist (ENT) in February of 2016, they can only inform him that his vocal cords are not functioning. The prisoner eventually undergoes a CT scan and is hospitalized, where he is diagnosed with a cancerous mass in his larynx after laryngectomy surgery. This procedure leaves prisoner permanently unable to speak. Afterward, he undergoes radiation therapy to prevent the cancer from spreading and is prescribed OxyContin/oxycodone for his extreme throat pain.
Plaintiff's lawsuit contends that after three months history of hoarseness and sore throat after multiple courses of antibiotics, the medical staff at Wexford should have referred the plaintiff to an ENT.
Case Analysis
It is not hard to presume that smoking contributed to man's laryngeal cancer. There is no question, of course, that there is a causal relationship between cigarette smoking and certain forms of cancer, including cancer of the larynx. In fact, tobacco smoking is the most important risk factor for cancer of the larynx. (Alcohol is also a big risk factor.) But, ultimately, the issue is not whether smoking caused this man's cancer. The question is whether an earlier diagnosis would have saved his vocal cords and potentially his life.
Plaintiff's expert sets out the survival rates for the different stages of laryngeal cancer. He concludes that the delay in making the appropriate diagnosis decreased his chance of survival. Specifically, the report concludes that, due to the advancement of the cancer, the patient's chances of living over five years are only 44%. But he does not provide likely staging of the cancer had the Wexford's healthcare providers properly treated the patient which is would be critical to plaintiff's damages.
Plaintiff's expert does offer the opinion that the plaintiff's condition could have been effectively treated with less invasive measures if diagnosed sooner. But the patient underwent a total laryngectomy with bilateral neck dissection, tracheostomy, bilateral thyroid lobectomies, and a cricopharyngeal myotomy. He does not say what the less invasive procedure would have been and whether the entire surgery could have been avoided.
There seems to be not only a misdiagnosis but also a delay in treating the patient after the appropriate referral was made. The Complaint makes it seem like it took an Act of Congress to get a CT and an ENT referral.
Plaintiff's attorney claims jurisdiction is appropriate in Anne Arundel County. There is no explanation as to why Anne Arundel County would be appropriate (or why plaintiff would want to be in Anne Arundel County). we
Plaintiff's Expert Witnesses
Plaintiff's certifying expert is Dr. Peter Sherer. Dr. Sherer is located in Silver Spring and is board certified in hematology, internal medicine and medical oncology. It is typically difficult to get a Maryland doctor to testify against another Maryland doctor. His expert report does not single out any health care provider but says that Wexford agents and employees breached the standard of care.
Alleged Negligence
Defendant failed to diagnose or treat patient's serious medical condition (throat cancer) in a timely manner.
As a result, his condition worsened and he lost his ability to speak after extensive surgery.
The plaintiff believes will continue to experience pain, discomfort and ongoing health risks associated with cancer.
Defendants
Wexford Health Services, Inc.
Jurisdiction
Anne Arundel County.
Prison Cases
Here are a few other medical malpractice lawsuits filed by Wexford Health Services by prison inmates:
Getting a Lawyer for Your Medical Malpractice Claim
Have you suffered an injury due to the negligence of a doctor? You are entitled to justice and compensation for the harm done to you. Miller & Zois is here to help you. We have a long history of obtaining large settlements and verdicts in medical malpractice cases in Maryland. Get a free online case review or call us today at (800) 553-8082.