Medication Error Nursing Home Death Lawsuit
Estate of Josephine Murray v. FutureCare Old Court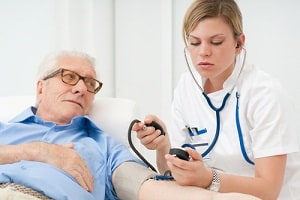 This is a nursing home medical negligence and wrongful death lawsuit brought by the surviving children of a deceased nursing home resident. The defendant is FutureCare in Randallstown, Maryland. Medical malpractice cases in Maryland must first be filed in Health Claims Arbitration. This claim was filed in the Maryland Health Care Alternative Dispute Resolution Office on January 5, 2018.
This is the second nursing home lawsuit filed in Maryland for 2018. It is also the first wrongful death case filed against a healthcare provider this year.
The core of this lawsuit is the allegation that the decedent was given medications that could cause her to develop a hypoglycemia. Glyburide and other sulfonylureas are known to induce hypoglycemia (low blood glucose) and hypoglycemic symptoms.
Plaintiff's lawsuit also mentions two bedsores the plaintiff had that were unmentioned in the victim's records. The bedsores are tangential but this failure to even document the bedsores existence paints a picture of a nursing home that was not properly caring this resident.
Summary of Plaintiff's Allegations
In 2015, an elderly woman was a resident of FutureCare Old Court, a nursing and rehabilitation center. The patient was given two medications (glyburide and metformin) to lower her blood glucose levels. Roughly 20 minutes later, she was administered a medication (glucagon) which elevates blood glucose levels. The patient then develops hypoglycemia.
The following morning, the patient was non-responsive and gasping for air. She is diagnosed with severe encephalopathy due to a combination of anoxia and hypoglycemia. While hospitalized, the patient is discovered to have two stage 2 pressure ulcers not noted in the nursing facility records. The comatose patient is transferred to an inpatient hospice center and dies two days later. Her cause of death is determined to be anoxic encephalopathy brought on by severe hypoglycemia.
Case Analysis
Glyburide is a second-generation sulfonylurea used for the treatment of type 2 diabetes. The drug facilitates the release of insulin from the pancreas causing lowering of blood sugar. It is often prescribed, as is was in this case, in combination with Metformin Hydrochloride. This drug also lowers blood glucose by decreasing hepatic glucose production, decreasing intestinal glucose absorption, and improving insulin sensitivity.
A major allegation in the complaint is that the defendant enabled the patient's hypoglycemia by administering a short-acting drug, glucagon. The plaintiffs argue that the patient should have been given a medication which would counteract the blood glucose lowering medications for a much longer period of time. The argument here boils down to "the defendant erred in using the wrong medication."
The complaint's allegation that the patient had nutrition deficits and difficulty taking food also supports, like the bedsores, the overall claim of negligence.
The pain and suffering cap in this case is $943,750. There is unlikely to be much in terms of economic damages.
Plaintiff's Expert Witnesses
Unknown at this time.
Alleged Negligence
The defendant was negligently given two long-lasting medications that lower blood glucose levels, causing her to develop hypoglycemia.
The defendant's nursing staff was aware that the patient was at risk of developing hypoglycemia and failed to monitor her condition or take steps to prevent this condition.
The defendant failed to detect, document or treat two pressure ulcers on the patient's sacrum and left buttock. This negligence allowed the ulcers to worsen into stage 2 bedsores.
The defendant neglected to address the patient's impaired food intake and nutrition deficiency prior to her death.
The defendant violated the standard of care by generally failing to provide appropriate medical treatment and nursing care to their patient. This overall negligence led to the patient's suffering and eventual wrongful death.
Defendants
Future Care - Old Court, Inc., Future Care Health and Management Corporation, and Future Care Health and Management of Old Court, Inc.
Jurisdiction
Baltimore County
More Resources Getting a Lawyer for Your Medical Malpractice Claim
Has a parent or spouse died due to nursing home neglect or negligence? You may be entitled to justice and compensation for the harm done to you. Miller & Zois is here to help you. Get a free online case review or call us today at (800) 553-8082.