Chiari Malformation and Spinal Fusion Malpractice
Donnelly-Pesa v. Johns Hopkins Hospital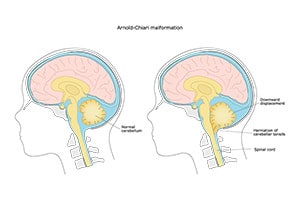 This medical malpractice claim was filed in Baltimore City after a doctor performed a risky and unnecessary spinal fusion revision surgery. It was filed in Health Claims Arbitration on January 11, 2018 , and it is the 18 th medical malpractice case filed in Maryland this year. This is already the second lawsuit filed against Hopkins this year.
Summary of Plaintiff's Allegations
A 37-year-old teacher began experiencing headaches with tingling in her extremities, dizziness, and a feeling of "passing out" throughout the day. Her headaches were occipital, meaning that her pain extended from the back of her head and behind her eyes to her upper neck and back. She also had a medical history of achondroplasia and skeletal dysplasia (dwarfism), congenital pancytopenia (deficiency of the three cellular components in the blood), portal vein thrombosis (narrowing or blockage of the vessel that brings blood from the intestines to the liver), splenic vein embolization, and two spinal fusions.
An MRI showed tonsillar descent below the foramen magnum to the mid C2 level due to Chiari malformation - brain tissue was extending into her spinal canal. A CT scan revealed a loose screw in her C2 spinal fusion, but the fusion otherwise appeared to be in good order with no instability. Still, her consulting physician indicated that the hardware from the spinal fusion was getting in the way of her descended brain tissue and would have to be removed. All of the woman's symptoms were related to her Chiari, not her cervical spine, and yet her physician went ahead with a spinal fusion revision surgery.
The surgery included a spinal fusion from C1-C4, a laminectomy (removal of a part of the vertebral bone) of C1 and C2, removal of instrumentation from the prior spinal fusion, and Chiari decompression with duraplasty (a patch sewn into the brain and spinal cord's outer covering). The doctor's operative note indicates that the surgery was challenging due to the woman's anatomy, large tonsils, and high blood pressure in the brain due to significant cerebral spinal fluid pouring. In reality, it appears as though the doctor cut across the woman's vertebral artery while he was negligently inserting a new screw at her C2 vertebra.
After the procedure, the woman developed cerebral spinal fluid leakage. A CT scan showed a lesion throughout her cerebellum (the part of the brain at the back of her skull), associated with the postoperative accumulation of fluid. Despite the complications, the woman seemed to be recovering well, until she started to show signs of drowsiness, mumbling, left gaze preference, and delayed responses to stimuli several days after the surgery. An emergency head CT revealed new hemorrhages in her right parietal and left frontal lobes. Additional tests confirmed a reoccurring Chiari malformation and raised the possibility of a cortical venous thrombosis.
The woman's health continued to decline as she developed bilateral venous infarcts, and she had spasticity in her right arm and leg. She remained in critical condition for several days before her doctor performed a procedure to revise the previous surgical incision with irrigation, drainage, drain placement, and primary closure. Still, the woman continued to leak cerebral spinal fluid around the drain.
Finally, 44 days after the spinal fusion revision, the doctor performed a shunt placement to stop the leaking. She continued to experience issues including hemorrhages, poor wound healing, infection from the wound site, and deep vein thrombi in her extremities. During the remainder of her 77-day hospital stay, she required a tracheostomy, a gastronomy, a catheter, physical and occupational therapy, six weeks of IV antibiotics, and long-term oral antibiotics.
Additional Comments
Chiari malformations are structural defects in the base of the skull. Normally the brain and parts of the brain stem sit above the opening in the skull where the spinal cord passes through, but when the skull is malformed, brain tissues can be squeezed out of its typical location and into the upper spinal canal. When Chiari malformations occur in adults, it is most likely because of an in-utero defect that caused their skull to be unusually small or misshapen. For this claimant, her Chiari malformations were probably a complication of her skeletal dysplasia (dwarfism).
Some Chiari malformations do not impact a person's daily life, in which case doctors may only monitor the Chiari without any invasive interventions. The Chiari becomes dangerous when it blocks the flow of cerebral spinal fluid, which normally circulates nutrients from the blood and removes waste from the brain. When symptomatic Chiari goes untreated (or is improperly treated) it can lead to neurological symptoms such as hearing or balance problems, muscle weakness, dizziness, difficulty speaking, and coordination issues.
Hydrocephalus , or a buildup of excess fluid in the brain, is a known complication of Chiari malformations. Excess fluid can cause increased pressure in the brain - particularly dangerous for a condition that already causes increased pressure on the cerebellum and spinal cord. Hydrocephalus can be fatal or cause severe brain damage, but it can be easily treated with the placement of a flexible tube (shunt). Since this claimant was showing symptoms of increased intracranial pressure and a heavy flow of cerebral spinal fluid during her spinal fusion revision surgery, the doctors should have placed a shunt right then and there, saving her the pain and suffering of many unnecessary complications.
While surgical intervention may have been necessary to treat the claimant's Chiari malformation, her spinal fusion revision surgery was unnecessary, dangerous, and unlikely to be successful. Because her vertebral artery was so close to her C2 screw, the bone at C2 was unable to accept a new screw without putting the vertebral artery at risk of injury. As expected, the claimant's vertebral artery was cut while her doctor was attempting to replace the C2 screw. This damage led to many of her subsequent complications, including her venous infarcts.
Jurisdiction
Baltimore City
Defendants
The Johns Hopkins Health System Corporation
Two Hopkins neurosurgeons
Hospitals Where Patient was Treated Negligence
Failing to properly assess the claimant before the revision procedure, including an evaluation of her cervical bone structure.
Failing to appreciate the significant risk of a cervical spinal construct revision.
Failing to recognize that the cervical spinal construct revision was not necessary, considering that the woman was asymptomatic with regards to her cervical spine.
Failing to appropriately perform the revision procedure and to place a shunt during the revision procedure.
Failing to timely recognize and treat the claimant's surgical injury.
Specific Counts Pled
As a result of medical malpractice, the claimant has suffered permanent injuries and will require full-time nursing care for the rest of her life.
Plaintiff's Experts and Areas of Specialty Getting a Lawyer for Your Malpractice Claim
Have you suffered a hospital injury due to the negligence of a doctor? Miller & Zois can help you. Call us at (800) 553-8082 and speak to one of our medical malpractice attorneys who can help you or get an online case review .
More Malpractice Claim Information