Newborn Respiratory Infection Lawsuit
Freeman v. Holy Cross Hospital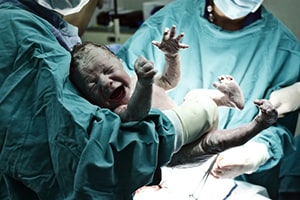 This wrongful death claim filed in Montgomery County is every parent's nightmare. Plaintiffs allege the physicians failed to provide a newborn baby with the appropriate diagnostic testing and examinations and therefore failed to appreciate the seriousness of her respiratory condition. It was filed in Health Claims Arbitration on January 16, 2018, and it is the 28th medical malpractice case filed in Maryland this year.
Summary of Plaintiff's Allegations
A baby was delivered as a premature twin at Holy Cross Hospital. After birth, she spent eight weeks in the hospital with breathing problems and was placed on an apnea monitor at home. Shortly after her discharge home, the baby returned to the hospital and presented with a runny nose and a cough. She was a high-risk premature newborn with significant pulmonary history, and her siblings at home had come down with upper respiratory congestion. The baby was diagnosed with an upper respiratory infection, but her physician never ordered or performed any diagnostic tests and discharged her home.
On her first day back at home, the baby was breathing loudly and experiencing nasal congestion. The baby's mother called her pediatrician to report the symptoms. The next day, the baby's apnea monitor alerted her mother that she wasn't breathing. The mother called emergency medical services and initiated cardiopulmonary resuscitation until they arrived. The baby was transported to Washington Adventists Hospital where she was pronounced dead.
Additional Comments
You would suspect the defense to this case to be on causation. The defense attorneys may argue that this was a compromised child already at grave risk and the failure to treat the infection was not the cause of death.
How premature the baby was will be important to the case. The longer the gestation period the better the argument that this child could have been saved if greater precautions were taken.
The crazy thing about these infant death cases is how little they are worth. The most the parents can recover is $800,000. That is completely insane.
Jurisdiction Defendants
A Silver Spring pediatrician
Holy Cross Health, Inc. t/a Holy Cross Hospital
Silver Spring Emergency Physicians, P.C.
MEP Health, LLC
PM Pediatrics of Maryland, LLC
A pediatrician in Greenbelt
Mazique Pediatrics, P.C.
Hospitals Where Patient was Treated
Holy Cross Hospital
Washington Adventists Hospital
Negligence
Failing to take a chest x-ray or any lab tests to rule out infection.
Failing to appreciate the baby's gestational age, weight of six pounds, and significant respiratory history.
Failing to recognize the significance of the baby's siblings' viral infections.
Failing to realize that an over-the-phone evaluation was not suitable for a premature baby with a history of breathing problems.
Specific Counts Pled
Negligence: Physicians at Holy Cross Hospital did not provide thorough diagnostic testing, and the pediatrician did not perform a thorough in-person evaluation, which resulted in the baby's death.
Wrongful Death and Survival Action
Agency: All acts of negligence were committed by health care providers serving as employees of Holy Cross Hospital, Silver Spring Emergency Physicians, MEP Health, PM Pediatricians, and/or Mazique Pediatrics.
Getting a Lawyer for Your Malpractice Claim
Have you suffered a hospital injury due to the negligence of a doctor? Miller & Zois can help you. Call us at (800) 553-8082 and speak to one of our medical malpractice attorneys who can help you or get an online case review.
More Malpractice Claim Information