Dental Implant Abscess and Infection Lawsuit in Montgomery County
Permanent Nerve Injury from Dentist Negligence
Dental Patient Lingual Nerve Damage Lawsuit in Maryland
Bonsu v. Walters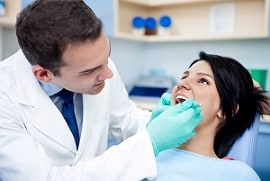 This dental malpractice lawsuit is brought by a Prince George's County woman alleging nerve damage. The defendant is an oral and maxillofacial surgeon based in Laurel, Maryland. This claim was filed in the Health Care Alternative Dispute Resolution Office on January 8th, 2018. This is the ninth medical malpractice suit filed in Maryland in 2018.
The plaintiff claims permanent damage to her lingual nerve. The lingual nerve is a major sensory organ in the tongue that we use to taste food and drink. The major allegation is that the negligence of an oral surgeon traumatized this nerve, permanently harming the plaintiff's sense of taste. Although not a life-threatening injury, this condition can have a meaningful impact on the plaintiff's quality of life.
Summary of Plaintiff's Allegations
In November of 2016, the plaintiff visits the defendant so that he can remove her wisdom teeth. While removing the plaintiff's lower right wisdom tooth, she allegedly sustains a lingual nerve injury. Two days later, the plaintiff returns to the defendant and complains of numbness on her tongue.
The defendant assures her this is a temporary condition that will clear up after three months. The plaintiff continues to experience numbness and returns with complaints roughly two months later. The defendant once again assures her this is a temporary issue but suggests she may require surgical intervention if it continues. The plaintiff believes she has sustained a permanent oral injury affecting her sense of taste.
Case Analysis
The mechanism of injury is vague. In the complaint, the plaintiff alleges that the lingual nerve was damaged at two possible points: When using a bur to section a tooth or when using a scalpel outside of the surgical site. This suggests the plaintiff is uncertain exactly how her injury occurred. We don't have an expert report yet to flush this out.
The plaintiff's lingual nerve injury occurred during surgery to remove wisdom teeth. Wisdom tooth removal is the most common cause of a lingual nerve injury. However, the risk of a permanent lingual nerve injury is rare.
The complaint indicates that the defendant suggested "microneural surgery" as a possible treatment for her injury. Given that the suit claims her injury is permanent, it'd be interesting to see what the plaintiff argues with respect to a potential "cure" for the damaged nerve.
Lingual nerve claims are not rare
Plaintiff's Expert Witnesses
Unknown at this time.
Alleged Negligence
The defendant was careless in extracting a wisdom tooth with either a scalpel or bur (a sharp dental instrument), resulting in trauma to the lingual nerve. This resulted in a departure from the accepted standard of care.
The defendant's negligence resulted in a permanent injury to the lingual nerve. This injury causes her chronic discomfort and pain. It also negatively impacts her ability to taste or enjoy food.
The defendant's negligence could have been prevented if he had instead used a retractor (a device used to keep the mouth open) or periosteal elevator (a surgical device with a rounded edge).
Defendants
George Walters, DDS
Jurisdiction
Prince George's County
Getting a Lawyer for Your Medical Malpractice Claim
Have you been harmed due to the negligence of an oral surgeon? You are entitled to justice and compensation for the harm done to you or a loved one. Miller & Zois is here to help you. We have a long history of obtaining large settlements and verdicts in medical malpractice cases in Maryland. Get a free online case review or call us today at (800) 553-8082.