Placental Abruption Birth Injury Lawsuit in Baltimore
Johnson v. Johns Hopkins Bayview Medical Center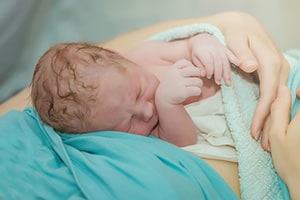 This birth injury claim was filed in Baltimore City when a placental abruption was not diagnosed in a timely manner, and consequently, an emergency C-section was not performed quickly enough. It was filed in Health Claims Arbitration on January 25, 2018, and it is the 45th medical malpractice case filed in Maryland this year.
Summary of Plaintiff's Allegations
A woman presented to the Johns Hopkins Bayview labor and delivery unit for observation and evaluation at 34-weeks pregnant. Her most recent ultrasound showed no fetal abnormality, but her vital signs began to decline soon after admission.
The woman's heart rate increased in correlation with the fetal heart rate's deterioration. She was diagnosed with preeclampsia (high blood pressure during pregnancy) and atypical HELLP syndrome, a liver disorder associated with severe preeclampsia. According to the medical literature, when severe preeclampsia is diagnosed, immediate delivery, regardless of gestational age is routinely recommended. Her hematocrit levels were also low and dropping, a possible sign of internal bleeding.
Due to the non-reassuring fetal status, health care providers decided to proceed with a C-section. The placenta was "normal appearing," but subsequent pathology indicated a placental abruption. Placental abruption is the complete or partial separation of the placenta from the uterine wall. Maternal risks associated with abruption include massive blood loss requiring red cell transfusion, disseminated intravascular coagulation ("DIC"), and kidney failure. These are life-threatening conditions can lead to acute respiratory distress syndrome ("ARDS") and death.
The baby was noted to be "not vigorous," "very pale," and "limp" after birth. He was having trouble breathing and the amniotic fluid was stained with fecal matter. Initially, the baby's hematocrit was alarmingly low - yet another indication of blood loss shortly before delivery.
The placental abruption caused the newborn to sustain a hypoxic-ischemic injury, an intracranial bleed, blood clotting, renal failure, and hypovolemic shock. He will continue to suffer permanent brain damage and physical limitations as a result of his birth injury.
Additional Comments
The placenta is truly the lifeline of the fetus. It allows the fetus to exchange oxygenated blood, carbon dioxide, and other nutrients and waste products in utero.
Placental abruption occurs when the placenta separates from the uterus before the baby is delivered. The placenta is the fetus' link to its mother, providing the unborn baby with nutrients, oxygen, a waste disposal system, and protection against infection. When that link is broken prematurely, the baby is at serious risk of injury or death. An immediate C-section delivery is usually the best chance for the baby to be born without severe health complications.
Placental abruption is estimated to occur in approximately 1 in 200 pregnancies, or approximately 31,500 pregnancies per year. Moreover, placental abruption in women with HELLP syndrome is 20 times more likely than in the general obstetric population
HELLP syndrome is a complication unique to pregnancy-induced hypertension. It usually presents with a disintegration of red blood cells, elevated liver enzymes, and a low platelet count. HELLP develops in 5% to 20% of women with preeclampsia/eclampsia. As you probably guessed based on this case, complications associated with HELLP syndrome include placental abruption. The treatment is immediate delivery or termination of the pregnancy if the child is not viable.
Defendants inevitable arguments in a placental abruption case include:

The argument only .4% to 1% of pregnancies are complicated by placental abruptions,
the causes of placental abruptions are "multi-factorial,"
placental abruptions remain "unpredictable and unpreventable
most cases of abruption cannot be predicted or prevented
abruptions "just happen" even in cases where the patient has no risk factors and even when the risk factors are treated
delivering the child earlier would have not have changed the outcome because within minutes of the abruption, the child would have suffered permanent brain damage regardless what steps the doctors took

In this case, the first 5 defenses are mostly not relevant. The case is not about predicting a placental abruption but how it was treated when it did occur. The problem with the sixth defense is that every expert if going to agree that the longer a child is deprived of oxygen, the more severe the brain damage will be
Jurisdiction Defendants
Johns Hopkins Bayview Medical Center, Inc.
3 Baltimore area OB/GYNS
Hospitals Where Patient was Treated
Johns Hopkins Bayview Medical Center
Negligence
Failing to properly monitor and document the woman's and the fetus' conditions.
Failing to timely communicate with other healthcare providers to implement orders.
Failing to perform medical interventions to diagnose fetal distress.
Failing to appreciate the placental abruption.
Failing to perform an emergency C-section in time.
Specific Counts Pled
Deviations from the standard of care caused the baby to suffer permanent injuries including neurological damage, hypoxic-ischemic encephalopathy, cerebral palsy, developmental delays, and their associated medical expenses and other economic losses.
Plaintiff's Experts and Areas of Specialty
James Balducci, M.D., Obstetrics and Gynecology, Maternal-Fetal Medicine (regrettably, Dr. Balducci, a really nice guy, has since passed).
Getting a Lawyer for Your Malpractice Claim
Have you suffered a hospital injury due to the negligence of a doctor? Miller & Zois can help you. Call us at (800) 553-8082 and speak to one of our medical malpractice attorneys who can help you or get an online case review.
More Malpractice Claim Information