Suicide Attempt Malpractice Case in Montgomery County
Anonymous v. Washington Adventist Hospital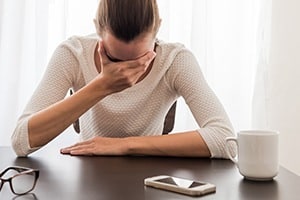 This is a psychiatric medical negligence lawsuit brought by a woman who suffered tragic injuries while trying to commit suicide. The defendants are the plaintiff's treating psychiatrist and a hospital in Takoma Park where she was receiving treatment.
This lawsuit is an instance of medical negligence where the defendants failed in their duty to protect a suicidal patient from inflicting harm on herself.
Mental health facilities have an obligation to prevent suicide attempts by a discharged patient. In this specific scenario, a patient was released without the important safety net of a loved one present to monitor their behavior. This case raises questions about the responsibilities of mental health professionals when it comes to a patient they've chosen to release.
This claim was filed on January 8, 2018. This is the tenth medical malpractice suit filed in the state of Maryland in 2018. It is the first psychiatric malpractice case filed in 2018.
Summary of Plaintiff's Allegations
In May 2015, the plaintiff is suffering from depression and suicidal thoughts. On May 12th, she attempts to commit to suicide by laying in front of Metrorail tracks but is stopped.
The plaintiff is hospitalized and undergoes a psychiatric evaluation. During a one week period, the plaintiff is under the care of a psychiatrist as well as a staff of nurses and social workers.
The plaintiff shows continuing symptoms of depression and suicidal ideation. A member of the plaintiff's family informs the defendants that no family or friends would be available to watch or care for her until May 18th. The family member asks the defendants to hold the plaintiff until the 18th. The defendants inform this family member that the plaintiff will be released on the 16th but that she should be fine.
The plaintiff is released on the 16th against her family's wishes. The next day, the plaintiff seriously injures herself after she lays in front of a Metrorail train. The plaintiff sustains severe internal injuries, multiple spinal fractures and requires partial amputations of both of her feet.
Case Analysis
It's believed that patients with depression have a high risk of attempting suicide within a month after discharge from a psychiatric hospital. "Short-term risk" suicides by depressed patients is even higher than in patients with schizophrenia or a bipolar disorder. So the plaintiff's likelihood of attempting suicide again after her release arguably should have been known to the defendants. On the other hand, an elevated risk of suicide does not mean a patient has been discharged in error.
Female depression patients are considered more likely than male patients with depression to attempt suicide in the week after their release from a hospital.
Obviously the biggest issue at hand is the fact that the defendants were warned that the plaintiff would have no one to supervise her if she was released as scheduled. Going off of the complaint, the defendants knew this was the case but chose to release her regardless.
If this suit goes to trial, a jury will have to determine how much responsibility a medical provider has after a patient has been discharged. They will also have to determine if the hospital's decision to release the patient against their family's wishes constitutes negligence.
The plaintiff in this case sustained life-changing injuries. The future care costs in amputee cases can be quite high. There is no question that the pain and suffering in a case like this exceeds the Maryland cap on noneconomic damages.
The temporal relationship between the release and the suicide attempt that caused her injuries helps plaintiffs. She tried to kill herself the very next day.
Alleged Negligence
The defendants failed to properly treat the plaintiff's mental illness using psychological or psychiatric tools.
The defendants negligently discharged the plaintiff from their care despite the fact that she was a known suicide risk.
The defendants ignored a request to keep the plaintiff in their care for several additional days so that a friend or family member could provide outpatient transportation and supervision.
Due to the defendants' actions, the plaintiff was able to attempt suicide and sustained life-altering physical injuries.
Defendants
Washington Adventist Hospital, a Takoma Park psychiatrist, Behavioral Healthcare of Maryland, and MRC Behavioral Health Services.
Jurisdiction
Montgomery County
See Also Getting a Lawyer for Your Medical Malpractice Claim
Have you been harmed due to the negligence of a psychiatric care provider? You are entitled to justice and compensation for the harm done to you or a loved one. Miller & Zois is here to help you. We have a long history of obtaining large settlements and verdicts in medical malpractice cases in Maryland. Get a free online case review or call us today at (800) 553-8082.