UTI Wrongful Death in Rehab
Chiungos v. Powerback Rehabilitation, Brightwood Campus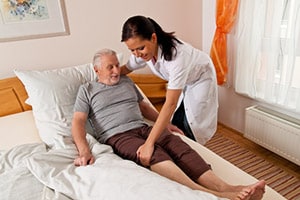 This wrongful death claim was filed in Baltimore County after a woman's UTI went untreated. It was filed in Health Claims Arbitration on January 29, 2018, and it is the 53rd medical malpractice case filed in Maryland this year.
Summary of Plaintiff's Allegations
After a surgery to repair her broken hip, an 85-year-old woman was released from the hospital and admitted to Powerback for rehabilitation. She was completely independent before her injury and she planned to return home and care for herself after a brief stay in rehab.
Although the woman's functional status was gradually improving after surgery, she developed a cough and complained of frequent urination. A chest x-ray was positive for pneumonia and a urinalysis was positive for a urinary tract infection (UTI). Her doctor started her on an antibiotic, Avelox, to treat her pneumonia and ordered a urine culture to further study her UTI. The woman's cough improved, but her UTI went untreated for thirteen days until a urine culture was finally performed. The culture was positive for gram-negative rods and her UTI treatment began twenty-four hours later.
Unfortunately, the woman's condition deteriorated while she waited for a urine culture and antibiotic treatment for her UTI. She developed a high fever, elevated heart rate, and low blood pressure. Her symptoms continued to worsen and she was transferred to St. Joseph's Hospital in distress. Due to the severity of her condition, comfort measures only were recommended. The woman died the day after she arrived at the hospital. Her death certificate lists respiratory failure, sepsis, pneumonia, urinary tract disease, and coronary artery disease as the causes of death.
Additional Comments
UTIs are usually asymptomatic in elderly patients, but symptomatic infections are associated with high rates of morbidity and mortality. Early recognition and treatments are crucial in these cases because infections progress more rapidly in the elderly.
According to the claimants' expert witness, an internal medicine and geriatrics physician, the woman died as a result of two significant delays in medical treatment. First, healthcare providers delayed her urine culture which subsequently delayed her UTI treatment. Then, once the woman's medical condition became critical, Powerback staff delayed her transfer to the hospital for almost twelve hours. The second delay is particularly significant because early antibiotic therapy, administered within the first six hours of suspected sepsis, has been proven to dramatically increase a patient's chance of survival.
Jurisdiction Defendants
515 Brightfield Road Operations LLC t/a Powerback Rehabilitation, Brightwood Campus
A family medicine doctor
A registered nurse
Hospitals Where Patient was Treated Negligence
Failing to provide appropriate treatment and medical services for the woman's UTI.
Failing to perform a urine culture test in a timely manner after it was ordered.
Specific Counts Pled
Survival Action: The woman suffered severe pain and incurred substantial medical expenses after her admission to the defendant facility and before her untimely death.
Wrongful Death: The woman died as a direct result of the defendants' negligence.
Medical Malpractice via Agency: The defendant facility is responsible for the damages caused by its employees' negligence.
Plaintiff's Experts and Areas of Specialty
Dr. Inna Sheyner, MD, CMD, AGSF, Board Certified in Internal Medicine with an Added Qualification in Geriatric Medicine
Getting a Lawyer for Your Malpractice Claim
Have you suffered a hospital injury due to the negligence of a doctor? Miller & Zois can help you. Call us at (800) 553-8082 and speak to one of our medical malpractice attorneys who can help you or get an online case review.
More Malpractice Claim Information