Wrist Fracture Misdiagnosis Lawsuit
Ward v. Mid-Atlantic Permanente Medical Group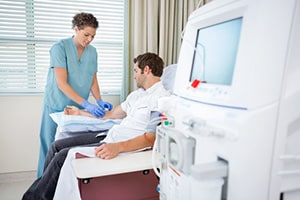 This is a wrist fracture misdiagnosis medical malpractice lawsuit brought in Rockville. The defendants are the plaintiff's treating radiologist, his medical practice, and Kaiser. Medical malpractice cases in Maryland must first be filed in Health Claims Arbitration. This claim was filed in the Health Care Alternative Dispute Resolution Office on January 4th, 2018. This is the third medical malpractice suit filed in the state of Maryland in 2018.
This is an instance where a fairly routine injury (in this case, a non-displaced fracture) becomes a serious medical issue. Although the plaintiff's condition isn't life-threatening, he developed an easily avoidable injury allegedly due to the carelessness of his radiologist.
Summary of Plaintiff's Allegations
In February of 2015, the plaintiff is seen at Gaithersburg Medical Center. He complains of painful stiffness and swelling to his right hand and wrist due to a fall. At the hospital, the plaintiff's wrist is x-rayed. The results of the x-ray are reviewed by a radiologist, Dr. Javery. Dr. Javery finds nothing unusual in the x-ray films and the plaintiff's treating physician concludes he suffered a minor sprain. The plaintiff is sent home with instructions to ice the wrist and take over the counter pain medication. The plaintiff's wrist pain continues. and he is eventually diagnosed with by another radiologist. In July, he goes to an orthopedic doctor who immediately diagnoses the a non-displaced scaphoid fracture.
Because of the delayed diagnosis, the fracture doesn't heal properly. When a scaphoid fracture is not properly and timely immobilized, the chance of a permanent injury increased dramatically. The plaintiff first undergoes two unsuccessful surgeries to repair the non-union using a bone graft and screw insertion. He now believes he will require invasive surgery to remove bones in his wrist, which will leave him with permanently reduced wrist mobility and strength. If the plaintiff doesn't undergo this procedure, he believes it will lead to severe arthritis.
Case Analysis
The negligence in this case seems pretty solid. Plaintiffs' lawyers rarely get a subsequent treating doctor to come in and say the prior doctors were negligent. Actually, that is wrong. This happens a lot. What is rare is that the subsequent treating doctor is willing to testify. We tried a case a month after this case where we won because the subsequent treating doctor gave us the causation opinion we needed to break the tie between the competing experts. But the doctor did not want to come to trial and after a lot of handwringing, we got an agreement to read his deposition testimony at trial. In this case, the subsequent treating doctor is signing the certificate of merit. He is all in.
The big issue is why the victim waited so long to get treatment. The defense is going to be that it is unreasonable that a wrist with that level of injury and seek no medical treatment for five months. The plaintiff's explanation is going to be the key to the case. But this is a real contributory negligence issue.
A scaphoid fracture is the most common carpal bone fracture. It usually occurs when a person falls forward with their hand/arm outstretched.
Is it a problem that the defendant is a radiologist and the expert is an orthopedic surgeon? The fear for plaintiffs' malpractice lawyers is that a court finds that your certifying expert is not in a "related specialty" and strikes the expert. This won't be a problem in this case. For the purpose of this claim, they are related specialties. Both doctors interpret x-rays for fractures.
There's nothing in the report about how the plaintiff's right wrist issues will impact his day to day life. The plaintiff's age and possible occupation are unknown but the injury may affect his ability to work, perform daily tasks (like driving or writing) or pursue hobbies (tennis, golf or other sports). If the plaintiff can convince a jury that his injury has a profound impact on his day to day life, he could possibly obtain a larger verdict or settlement.
His past medical bills are over $80,000. Although the expert report estimates the cost of the plaintiff's future medical treatment for a carpectomy will be nearly $30,000. The expert calls the operation a "salvage procedure." This is language that will interest a jury when it considers permanency.
Plaintiff's Expert Witness
Plaintiff's certifying expert is Dr. Sunjary Berdia. Dr. Berdia is the plaintiff's treating orthopedic surgeon. He specializes in hand surgery and his practice is based in Rockville. In his expert report, Dr. Berdia concludes that the failure of the defendants to initially identify the scaphoid fracture was directly responsible for the non-union. He argues that, if the fracture had been detected and the wrist immobilized, the fracture would have most likely healed properly. Dr. Berdia opined that the plaintiff will lose half of the normal range of motion in his right wrist and that his wrist strength will decrease by between 20-40%.
Alleged Negligence
Defendant radiologist failed to diagnose the plaintiff's non-displaced scaphoid wrist fracture and communicate those findings to the plaintiff's treating physician.
Because of the defendants' delayed diagnosis, the fracture healed improperly.
The plaintiff needed increasingly invasive surgical treatment and will need a third surgery to remove bones in his wrist.
The plaintiff now has to live with permanent issues affecting his ability to use his right wrist.
Defendants
A radiologist
Mid-Atlantic Permanente Medical Group, P.C.,
Kaiser Foundation Health Plan of the Mid-Atlantic States, Inc.
Jurisdiction More Information Getting a Lawyer for Your Medical Malpractice Claim
Has an injury gone undetected due to the negligence of a radiologist or orthopedic doctor? You are entitled to justice and compensation for the harm done to you. Miller & Zois is here to help you. We have a long history of obtaining large settlements and verdicts in medical malpractice cases in Maryland. Get a free online case review or call us today at (800) 553-8082.