Glen Burnie Pressure Sore Wrongful Death Lawsuit
Lynch v. Glen Burnie Operating Company, LLC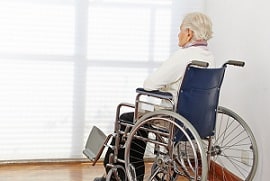 This nursing home negligence lawsuit was filed by the estate of a man in Anne Arundel County after he develops several pressure sores during a stay in a nursing home and passes away shortly after.
This lawsuit was filed in Health Claims Arbitration on April 26, 2017. It is the 197th medical malpractice case filed in Maryland this year.
This is the second wrongful death lawsuit filed against Glen Burnie Health and Rehabilitation Center in the last year.
Summary of Plaintiff's Allegations
A man is admitted to Glen Burnie Health and Rehabilitation Center after a week at the University of Maryland Baltimore Washington Medical Center. Upon admission, the man does not have any identifiable skin injuries or wounds. After a month in the Rehabilitation Center, the man is discharged and has developed several serious wounds and pressure injuries to multiple areas of his body including his heels, right knee, coccyx, and penis.
The following day after his discharge, the man is admitted to Sinai Hospital and is treated for a urinary tract infection, infected penile ulcer, and multiple pressure injuries. The man is admitted for two more hospitalizations at Sinai Hospital to undergo extensive wound care and management, including surgical removal of his sacral and penile ulcers. The man's condition continues to deteriorate and he passes away.
Plaintiff files this lawsuit, arguing that Glen Burnie Health and Rehabilitation caused this man's death because it breached its duty to endure that a resident who enters the nursing home without pressure sores does not develop pressure sores. The allegations are also that they filed to meet their obligation provide the necessary treatment and services to promote healing, prevent infection and prevent new sores from developing.
Additional Comments
If a resident is identified as being at high risk for development of pressure sores, aggressive measures must be undertaken to prevent them from forming. The solution is simple. It just requires effort. Routine preventive care for preventing bedsore includes turning and proper positioning, application of pressure reduction or relief devices, providing good skin care, keeping dry and clean bed linens, and monitoring the resident's nutrition.
Residents in nursing homes are often going to get early stage bedsores. So you have to distinguish between someone relatively minor and something that is already a major problem. You need to look at the wound base, the bottom of the wound. You look for color, the overall health of the tissues, the drainage and the color and smell of that drainage. Pressure sores can be like icebergs. They look small but a closer look reveals the tissue destruction that is more significant that what a cursory glance will tell you.
Again, this is the second wrongful death lawsuit against Glen Burnie Health and Rehabilitation in the last year.
Jurisdiction Defendants
SSC Glen Burnie Operating Company, LLC
Hospitals Where Patient was Treated
Glen Burnie Health and Rehabilitation Center
Negligence
Failing to properly assess, develop and implement an appropriate plan of care to minimize patient's risk of developing pressure injuries and to prevent the worsening of existing injuries
Failing to recognize and document changes in patient's condition
Failing to timely diagnose, document and treat pressure injuries that developed during his admission
Failing to provide necessary care and services to patient to meet his need
Specific Counts Pled
Negligence - Survival Action
Wrongful Death
Plaintiff's Experts and Areas of Specialty Getting a Lawyer for Your Malpractice Claim
Have you suffered a nursing home injury due to the negligence of a doctor or nursing home staff? Miller & Zois can help you. Call us at (800) 553-8082 and speak to one of our medical malpractice attorneys who can help you or get an online case review.
More Pressure Sore Claim Information
Take a look at some other nursing home pressure sore cases filed in 2017: