Wrong Chemotherapy Lawsuit Against Johns Hopkins
Messick v. Johns Hopkins Hospital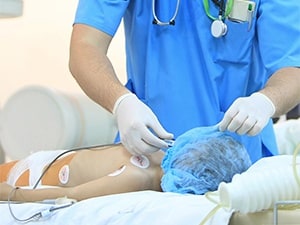 This is a wrongful death medical malpractice case filed on behalf of a woman against her doctors who fail to diagnose Hodgkin's Lymphoma and she receives the wrong treatment for months in Baltimore City. It was filed in Health Claims on April 26, 2017, and it is the 199th medical malpractice case filed in 2017 in Maryland.
Summary of Plaintiff's Allegations
A woman goes to Peninsula Regional Medical Center for a CT biopsy of a sacral lesion. The pathologic material is sent to Johns Hopkins Hospital for consultation by a pathologist. The defendant doctor renders a wrong diagnosis and the woman begins chemotherapy treatment at Peninsula Regional Oncology and Hematology.
The woman is reevaluated during the course of her chemotherapy treatment and a radiographic review is inconsistent with the original diagnosis. The woman's pathology is reviewed again and it is determined that she has Hodgkin's Lymphoma. After the new diagnosis, the woman's chemotherapy treatment is changed. But she has already completed four cycles of chemotherapy.
After three months, the woman reports feeling ill and has trouble with daily activities, including labored breathing. The woman is sent to the emergency room and diagnosed with complex pneumonia and is admitted to the hospital. Shortly after, she passes away.
Additional Comments
The negligence case on the cancer misdiagnosis seems pretty strong. Hopkins' oncologist gave her the wrong chemotherapy. If this is accurate, that is pretty simple, right? So there is no question the claim has value. The pain and suffering alone of learning you have been on the wrong chemotherapy after four months is arguably worth Maryland's malpractice cap on noneconomic damages alone. Can you imagine going through four months of chemotherapy and learning you were not taking the chemotherapy for the cancer you have?
The question of whether the negligence at Hopkins caused her death is going to depend on a close reading of the medical records.
There is also a claim against Peninsula for failing to monitor and access her lung capacity and pulmonary function while receiving chemotherapy. Pulmonary function in patients receiving ABCD chemotherapy is a concern.
For patients with decreased pulmonary function with Hodgkin's disease who's on ABVD like this woman was, you have two potential causes of the decreased pulmonary function. One is the bleomycin (the B in ABVD). A pulmonary function study should be done before ABVD is given.
The other possible cause of decreased pulmonary function in patients on ABVD is an infection. This can warrant an infectious disease consult if there are abnormal pulmonary function studies.
Jurisdiction Defendants
Johns Hopkins Hospital
A pathologist at Hopkins
A hematologist and oncologist at Hopkins
Peninsula Regional Oncology and Hematology, P.A.
Peninsula Regional Medical Center, Inc.
3 hematologist and oncologists in Salisbury
A hematologist and oncologist in Berlin
Hospitals Where Patient was Treated
Peninsula Regional Medical Center
Negligence
Negligently deviated from the applicable standard of medical care
Specific Counts Pled
Survival Claim
Wrongful Death
Plaintiff's Experts and Areas of Specialty Getting a Lawyer for Your Malpractice Claim
If you have suffered due to a doctor's negligence, we can help you get the justice and compensation that you deserve. Miller & Zois has a history of obtaining verdicts in medical malpractice cases in Maryland, earning large verdicts and settlements. Call us today at (800) 553-8082 or get an online case review.
More Malpractice Claim Information
Value of cancer misdiagnosis cases
Read about some cancer misdiagnosis lawsuits filed in Maryland in 2016-2017: