Inmate Lawsuit Alleging Overdose in Jessup
Thomas v. Wexford Health Services, Inc.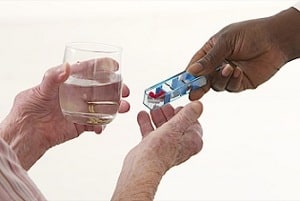 This medical malpractice case was filed by an inmate at Patuxent Institution against the doctors at the facility. He alleges, pro-se, that the doctors repeatedly told him to take medications at an overdose level. It was filed in Health Claims Arbitration on April 14, 2017 and it is the 180th medical malpractice case filed in 2017 in Maryland.
Summary of Plaintiff's Allegations
Plaintiff is an inmate at Patuxent Institution. He is seen by the chronic care doctor for an epilepsy seizure. The doctor tells him to take 200 mg of Dilantin (an anti-epileptic drug) in the morning and 200 mg of Dilantin at night. He tells the doctor that this is different from prior care he was receiving - with only 200 mg of Dilantin per day.
A month and a half later, the man has a seizure in the dining hall. He is taken to Howard County General Hospital where he is allegedly diagnosed with an overdose on Dilantin.
A month later he puts in a sick request at the prison. A blood test is done and he is transported to the hospital. Again, he is found to have overdosed on Dilantin. He remains at the hospital for about 31 days. He alleges this happens again, many times.
The man files this claim alleging the defendant doctor at the prison caused him to overdose on Dilantin multiple times, nearly causing his death.
Additional Comments
Wexford provides a lot of medical care for prisons in Maryland and around the country. Like any large health care provider, Wexford commits medical malpractice. Yet it is a good bet that its malpractice payouts every year are very low. Why? Medical malpractice lawyers are not climbing over each other to take prison cases because juries are predisposed to find against inmates in civil cases. Too many lawyers throw out the baby with the bath water and do not give these cases a fair look. This result is that most prison malpractice cases are brought without a lawyer. Bringing a malpractice to a successful outcome is extremely difficult for someone without experience handling medical malpractice cases.
They key to this case is naming an expert witness to support the claim and following the procedures prescribed by Maryland law. They failure to follow these technical obligations can result in the claim being dismissed. Our malpractice laws give judges little discretion to look past technical mistakes made by people representing themselves without a lawyer.
Symptoms of Dilantin overdose include febrile response and mental status changes that vary in extreme from mild confusion to stupor and coma.
Jurisdiction Defendants
Wexford Health Services, Inc.
Hospitals Where Patient was Treated
Howard County General Hospital
Negligence
Negligent administration of medication
Specific Counts Pled Plaintiff's Experts and Areas of Specialty Plaintiff Firm/Attorneys
Pro se (handling his own claim without a lawyer)
Getting a Lawyer for Your Medical Malpractice Claim
If you believe you have been injured due to the negligence of a doctor, we can help you. Call Miller & Zois today at (800) 553-8082 or get a free online case review.
More Malpractice Claim Information
Other cases filed by inmates in 2017: