Anesthesiologist Malpractice Lawsuit for Using General Anesthesia
Kenney v. Western Maryland Health System Corporation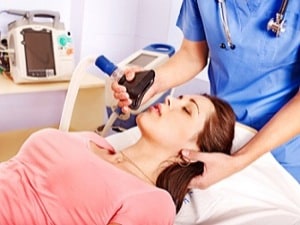 This is an anesthesiologist malpractice lawsuit filed on behalf of a woman in Allegany County. It was filed in Health Claims Arbitration April 17, 2017 and it is the 184th medical malpractice case filed in Maryland in 2017.
Summary of Plaintiff's Allegations
An 81-year-old woman has a history of congestive heart failure, hypertension, stage 3 renal insufficiency, chronic ambulatory dysfunction, and narrowing of the aorta. She goes to the ER at Western Maryland Regional Medical Center due to hip pain after falling. She is admitted due to generalized weakness. She is seen by a cardiologist after being found to have an irregular, rapid heart rate. An echocardiogram shows severe aortic stenosis and moderate pulmonary hypertension. She consents to a permanent pacemaker implant.
Surgery is done the next day. Defendant anesthesiologist recommends general anesthesia instead of local anesthesia. Defendant doctor is the attending physician for the surgery. Before and during the surgery, the woman has an accelerated heart rate. After she is intubated, she is given a muscle relaxant. After surgery, she experiences fast heartbeat, low blood pressure, and low oxygen saturation levels. She continues to deteriorate and efforts to resuscitate her failed.
Her husband filed this claim on behalf of himself and his wife's estate, alleging that the standard of care for a patient in the woman's condition would be to use local anesthesia with sedation. They also allege she was not stable enough to undergo the procedure and that it should have been canceled.
Additional Comments
This may be a meritorious case for the plaintiff. But it may be a very tough hill to climb. The case is essentially that the decedent was not healthy enough for general anesthesia and a local anesthetic should have been used. That may be challenging in Allegany County, one of the most conservative jurisdictions in Maryland. Doctors tend to win close call cases in this jurisdiction.
It is true that unlike 20 years, ago, most pacemaker implantations in 2017 are done using local anesthesia. Plaintiff's argument is going to be that given that the procedure is typically done with a local, it was a breach of the standard of care to try a risker path with an 81-year-old woman with so many health complications. It will be interesting to hear what the anesthesiologist's thinking was in using general anesthesia.
The anesthesiologist will probably argue that a local anesthetic and conscious sedation was not considered to be adequate to keep this elderly woman comfortable at the level that the doctor thought was appropriate. The doctor is going to say he was in a catch-22 with an 81-year-old woman that he did not want to see in pain. In the jury agrees with this framing of the issue - as a judgment call of a doctor doing his best - it is going to be hard to convince a jury in Cumberland to go against the doctor.
Jurisdiction Defendants
The anesthesiologist
The attending physician
Cumberland Anesthesia & Pain Management, P.C.
Western Maryland Heath System Corporation
Hospitals Where Patient Was Treated
Western Maryland Heath System Corporation
Negligence
Failure to use appropriate treatment, surgery, tests and procedures
Failure to carefully evaluate patient's condition
Failure to provide patient with adequate informed consent for all surgical and other treatments
Failure to monitor course of patient's condition and treatment
Exposing patient to unnecessary risk by using general anesthesia
Specific Counts Pled
Negligence, Wrongful Death
Negligence, Survival Action
Agency
Plaintiff's Experts and Areas of Specialty
Thomas Shaughnessy, M.D. - board certified expert in anesthesiology; based in California; has testified previously in Maryland malpractice cases.
Getting A Lawyer For Your Anesthesiologist Malpractice Claim
If you have been injured due to the negligence of a doctor or anesthesiologist, Miller & Zois can help you. Call us today at (800) 553-8082 or get an online case review at no cost to you.