Johns Hopkins Wrongful Death Heparin Lawsuit
Fell v. Johns Hopkins Hospital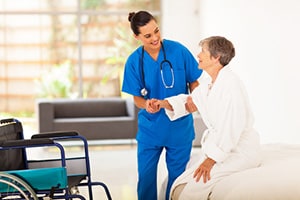 This is a wrongful death hospital malpractice lawsuit filed on behalf of a woman in Baltimore City after she bleeds to death during a procedure. This misuse of heparin was filed in Health Claims Arbitration on April 6. It is the 162nd medical malpractice case filed in Maryland in 2017.
Summary of Plaintiff's Allegations
A woman is diagnosed with cancer in her right palatine tonsil. She completes chemotherapy and radiation therapy.
Shortly after she finishes treatment for her cancer, she goes to the ER at Johns Hopkins Hospital due to shortness of breath. She is admitted to the hospital with pneumonia. She is given Heparin, a blood thinner. Her platelet count is low, and she has an increased risk of bleeding. While at the hospital, she has at least two random nose bleeds through her right nostril because the radiation therapy had caused the tissue to become easily destroyed.
She receives multiple blood transfusions but her platelet count remains very low. Six days after her admission, defendant doctors decide that the plan should be to hold off on Heparin if her platelet count fell below a certain number, which it does later that evening. The next morning her platelet count is still below but she continues to receive the Heparin.
Defendants decide to place a nasogastric tube. This is inserted through her nasopharynx and causes her to bleed profusely into her airway. She chokes on her own blood and this causes her death. An autopsy confirms her cause of death was bleeding to death and bleeding into the airway.
Her Estate files this claim on her behalf, alleging that defendants failed to appreciate that she was at a significant risk of suffering a life-threatening bleeding during placement of the nasogastric tube. They also allege that the administration of Heparin was negligently administered and managed. These errors resulted in the woman's pain, suffering and death.
Additional Comments
Heparin is a blood thinner. The primary purpose of heparin is to prevent a blood clot. Blood clots are formed the liquid part of the blood, and sometimes the platelets, form a clot when there was not an injury. Heparin diminishes the ability of the liquid part of the blood to form a clot. Of course, the decedent here ultimately had the opposite problem.
Platelets are blood clotting cells which keep us from bleeding with little or no provocation.The decedent had low plateletes. This can lead to thrombocytopenia which may cause excessive bleeding even when there is no apparent injury.
A nasogastric tube is placed through the nose, down the throat, and into the stomach for feeding or the administration of medication. Misplacing the nasogastric tube could cause a hemorrhage but that does not appear to be what happened here.
Jurisdiction Defendants
Johns Hopkins Health System Corporation
Johns Hopkins Hospital
Johns Hopkins University
A Hopkins oncologist
A Hopkins internist
Hospitals Where Patient Was Treated Negligence
Failing to appropriately appreciate that patient was at significantly increased risk of suffering life-threatening bleed
Failing to appropriately recognize the risk of bleeding associated with Heparin
Failing to recognize increased risk of bleeding associated with placement of a nasogastric tube
Failing to appropriately manage and evaluate the patient's abnormal coagulation parameters
Failing to order a blood transfusion when necessary
Failing to timely discontinue Heparin
Failing to inform the patient of past injuries and bad outcomes regarding prior patients who underwent a procedure with low platelet count while under the effects of Heparin
Specific Counts Pled
Wrongful Death
Survival Action
Failure to Obtain Informed Consent
Plaintiff's Experts and Areas of Specialty
Bruce E. Brockstein, M.D. - board certified in Internal Medicine and Medical Oncology; Illinois, North Shore University Health System
Getting a Lawyer for Your Hospital Malpractice Claim
If you've suffered due to the negligence of a doctor or hospital, our firm can help you. For the harm you have suffered you deserve compensation and justice. Call us today to speak with an attorney who can help you at (800) 553-8082. You can also get an online case review.
More Malpractice Claim Information
Other cases filed against Johns Hopkins in 2017:
Take a look at some verdicts and settlements from medical malpractice cases in Maryland recently