Dialysis Bleeding Malpractice Lawsuit in Baltimore
Branch v. Total Renal Care, Inc.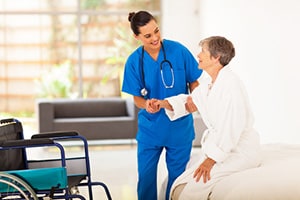 This is a medical malpractice lawsuit filed after the death of a woman due to bleeding complications from dialysis. It was filed in Health Claims Arbitration on April 14, 2017, and it is the 179th medical malpractice case filed in 2017 in Maryland.
Summary of Plaintiff's Allegations
A woman has dialysis done Downtown Dialysis Center. During the procedure, there is a malfunction with the machine. She is transferred to another machine. However, shortly after, she begins to lose a lot of blood. A puddle of blood on the floor develops and the woman's clothes become soaked with blood. Defendant healthcare providers find her to be in hypovolemic shock and cardiac arrest and attempt resuscitation efforts. They call 911 and the woman is taken to the hospital where additional attempts are made to resuscitate her.
They are able to save her life but she never is able to fully recover. She stays in the hospital for about eight weeks until her death. The cause of her death is a severe anoxic brain injury due to cardiac arrest and severe respiratory failure.
Her family files this lawsuit alleging that the defendants failed to properly connect the dialysis machine and to ensure they were running properly.
Additional Comments
Plaintiff has two experts, a doctor and a nurse to connect the dots of negligence and injury. The doctor opines that blood loss caused the death. The nurse says that it must be the port was not secured. Her evidence is that the port was not secured is the bleeding. This could be a subject of a motion to dismiss. The defendants may argue that there is no specific allegation of an act or omission that caused the harm. They may claim that a dialysis patient could bleed in the absence of negligence. Hopefully, plaintiff has evidence that caps and the clamps were unsecured after the first machine malfunctioned. Otherwise, the defendant is going to content that the decedent unsecured the caps and clamp or there was a product defect (poor threading?) that caused the bleed.
The good news is that the plaintiffs' lawyer smartly filed this case long before the statute of limitations has passed.
Plaintiff claims in the complaint that the defendant failed to respond to the blood loss. None of their experts offer this opinion and that would be a very difficult argument to make absent compelling facts.
People often do not realize how difficult dialysis is for patients. It takes so much time an energy. The risks are also great. Patients receiving dialysis are at greater risk for sudden cardiac death and there is great risk of infection.
Jurisdiction Defendants
Total Renal Care, Inc.
Downtown Dialysis Center
Davita, Inc.
Davita Accountable Care Solutions
Negligence
Failure to properly connect the port after transferring the patient to a new machine
Failing to ensure the second machine and port were properly working
Failing to properly monitor the patient after being connected to the new machine to ensure the patient was properly receiving dialysis on a functioning machine
Failing to timely and properly respond to patient's blood loss
Specific Counts Pled
Medical Negligence - Survival Action
Medical Negligence - Wrongful Death
Plaintiff's Experts and Areas of Specialty
Bruce Charash, M.D. - board certified in Internal Medicine and Cardiology
Robin Thompkins, R.N. - nurse licensed in MD, DE, PA, VA, NJ, and D.C.
Getting a Lawyer for Your Medical Malpractice Claim
If you've suffered an injury due to the negligence of a doctor or medical staff, call Miller & Zois today at (800) 553-8082. We can help you get the compensation you deserve. You can also get an online case review.
More Malpractice Claim Information