ERCP Informed Consent Malpractice Lawsuit
Cain v. Gastro Associates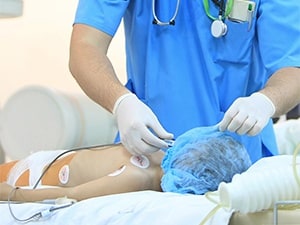 This medical malpractice lawsuit was filed against a gastroenterologist in Howard County on April 13, 2017. It is the 174th medical malpractice case filed in Maryland in 2017.
Summary of Plaintiff's Allegations
Plaintiff has a history of diverticulitis. She goes to defendant doctor, telling him that she has a history of an endoscopic retrograde cholangiography (ERCP) done a few years ago, and biliary sphincterotomy (cutting of the biliary sphincter during an ERCP). Defendant recommends an ERCP.
During the procedure, he finds the prior sphincterectopy to be narrowing, so he extends it by two centimeters. The woman is discharged home.
A few hours later, the woman goes to Greater Baltimore Washington Medical Center due to severe epigastric pain. She is discharged with post-ERCP pancreatitis that has evolved into necrotizing pancreatitis. She is hospitalized for much of the following year.
She files this claim alleging that the defendant never told her that the ERCP had a risk of pancreatitis that could lead to prolonged hospitalizations and disability.
Additional Comments
Miller & Zois' last verdict in an ERCP case was for $1.5 million in Baltimore County in 2016. Like this case, the question is whether the patient should have received an ERCP in the first place. You can see that verdict and other ERCP verdicts here.
There is a 5-10% risk of pancreatitis in ERCP cases.
Diverticulosis is a condition that most people develop as they get older. Diverticulosis is a pocket, a thin walled pocket in the wall of the colon. A good metaphor is someone driving on a tire for too long and soft spots form in the tire. Those spots are diverticula. It is wear and tear from a lifetime of the colon contracting and relaxing.
On the issue of informed consent, the question is whether a reasonably prudent person in the plaintiff's position would have decided not to undergo the operation or procedure.
The defendants are going to argue that a person with diverticulosis is at risk for great complications so a reasonable person would always go forward with the minimally invasive ERCP in spite of the known complication of pancreatitis. But diverticulosis rarely necessitates surgery. So this may be a tough argument unless this was a very serious case.
Jurisdiction Defendants
A gastroenterologist
Gastro Associates
Hospitals Where Patient was Treated
Greater Baltimore Medical Center
Negligence
Negligent recommendation of an ERCP to a patient at a high risk for developing post-ERCP pancreatitis
Negligent performing of an ERCP for diagnostic purposes
Negligently extending the sphincteromtomy by 6 to 8 centimeters
Failing to leave a prophylactic pancreatic stent
Performing the ERCP and sphincterotomy without informed consent
Specific Counts Pled
Negligence
Lack of Informed Consent
Plaintiff's Experts and Areas of Specialty Getting a Lawyer for Your Medical Malpractice Claim
If you have been injured due to negligence by a doctor, Miller & Zois can help you. Call us today at (800) 553-8082 to speak to a malpractice attorney who can help you, or get a free online case review.
More Malpractice Claim Information