Epidural Injection Malpractice Lawsuit in Baltimore City
Jacobs v. Baltimore Pain Relief Center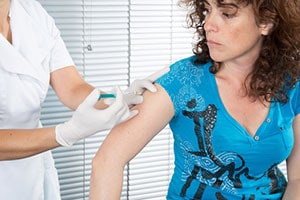 This is a medical malpractice lawsuit filed against a chiropractor in Baltimore City after a woman suffers spinal nerve damage after having an epidural injection. It was filed pro se in Health Claims Arbitration on April 13, 2017, and it is the 176th malpractice case filed in Maryland in 2017.
Summary of Plaintiff's Allegations
Plaintiff has previously received multiple spinal procedures, without any issues. She is in pain management to help address and manage a seizure disorder. She goes to the defendant, who administers an epidural to give her the pain medications. The woman is under the understanding that he is a doctor, not a chiropractor.
The epidural results in spinal nerve damage and a gradual collapse of her entire left leg, severe back pain, and a loss of mobility. These injuries require surgery to her left hip, right hip, left knee, and back.
The plaintiff files this complaint, alleging that the defendant was not licensed to perform epidurals. She also claims the procedure was done improperly, and that if she was aware of the risks associated with it, she would not have undergone the epidural.
Additional Comments
These pro se complaints are hard to analyze. The complaint identifies a chiropractor named Michael Fox who was giving epidural injections. Yet the plaintiff cannot find anyone by this name who is a chiropractor or a medical doctor and neither could we. It is hard to imagine a chiropractor insane enough to give epidural injections. But anything is possible.
One thing not in dispute is that the plaintiff has had a very unfortunate medical history with strokes at ages 19 and 23.
Plaintiff apparently had a Towson lawyer representing her at one point and mentions several unsuccessful efforts to contact the defendants to settle the case.
Ultimately, the plaintiff in this case will need to produce expert testimony that she was not a candidate for an epidural and that it was negligently performed and caused her injury.
The risks of epidural steroid injections include a backache, hearing loss, neurologic injury, post-dural puncture headache, epidural hematoma, systemic toxicity of local anesthetics, total spinal anesthesia and infection. It could be the best case here is a lack of informed consent if the plaintiff's facts are accepted by a jury.
If this case is to advance, another dispute will be over causation, the question of what injuries were caused by the epidural.
Jurisdiction Defendants
Michael Fox, M.D. - a doctor at Chiropractic medicine
Dr. Kamachandra Nair - a doctor in charge of Baltimore Pain Relief
Baltimore Pain Relief Center
Negligence
Breach of professional duty to fully inform the patient of risks of the procedure and conservative options
Improperly performing procedure
Specific Counts Pled Plaintiff's Experts and Areas of Specialty Plaintiff Firm/Attorneys Getting a Lawyer for Your Chiropractor Malpractice Claim
If you have been injured due to the negligence of a doctor or medical staff, Miller & Zois can help you. Get an online case review or call us today at (800) 553-8082 to speak with an attorney who can answer your questions.
More Malpractice Claim Information