Dental Implant Abscess and Infection Lawsuit in Montgomery County
Cole v. Maryland Dental Center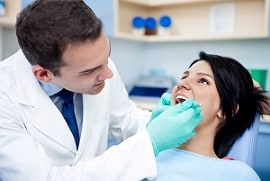 This dental malpractice lawsuit was filed by a woman in Montgomery County after she develops an infection and abscess after defendant's dental work. It was filed in Health Claims Arbitration on April 19, 2017, and it is the 189th medical malpractice case filed in Maryland this year.
Summary of Plaintiff's Allegations
Plaintiff goes to Maryland Dental Center for a comprehensive oral evaluation. Maryland Dental is a big practice with offices in Baltimore, Germantown, Silver Spring and Manassas.
The woman is seen by defendant dentist who takes images of two of the woman's teeth and does four bitewings. The images are inadequate to identify if infections are present.
She returns two months later and defendant performs a scaling and root planing in the upper right and lower right quadrants of her mouth. A week later, the periodontal scaling and root planning are done but the periodontal chart is not.
Defendants see the woman three times in the next week for filings and a prophylaxis. Defendants also perform extractions of two of her teeth. The day after the extractions, the woman is in pain and a pain prescription provided. That evening, she goes to Holy Cross Hospital where she is admitted due to pain, swelling, and a left-sided abscess that had developed near the site of extraction. The plaintiff is transferred to Washington Hospital Center for continued treatment of the infection and drainage of the abscess.
The woman files this case, claiming that defendant's negligence caused her to suffer extreme discomfort and inconvenience.
Additional Comments
The submandibular gland is a salivary gland. It sits in an area of the neck called the submandibular triangle. The submandibular gland can look like different things depending on what is affecting it. If it's normal, it looks like a spongy, rubbery material that is a combination between pale and red.
An abscess typically presents with swelling, redness, and a white pustule where it is about to break.
Most abscesses are treated as an outpatient with both medication and drainage. This is the key with an abscess. If you do not drain it, it is not going to get better. Many dental malpractice cases involve the using just medication to treat the abscess. But that is the key difference between an infection and an abscess. With an infection, antibiotics alone may do the trick. With an abscess, you have to drain it.
Jurisdiction Defendants
A dentist at Maryland Dental Center
Another dentist at Maryland Dental Center
Maryland Dental Center
Hospitals Where Patient was Treated
Washington Hospital Center
Negligence
Failing to render the plaintiff treatment that is fair, appropriate, and reasonable during extraction of teeth
Failing to adequately perform the post-extraction conditioning
Failing to adequately treat the infection
Specific Counts Pled Plaintiff's Experts and Areas of Specialty Getting a Lawyer for Your Malpractice Claim
Have you suffered a dental injury due to the negligence of a dentist? Miller & Zois can help you. Call us at (800) 553-8082 and speak to one of our medical malpractice attorneys who can help you or get an online case review.
More Malpractice Claim Information