Dental and Oral Surgeon Malpractice Lawsuit in Baltimore
Martz v. Family Dental Care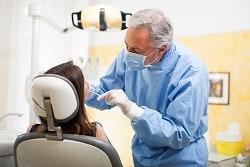 This is a dental malpractice lawsuit filed by a woman in Baltimore City, alleging that her dentist failed to inform her of risks associated with dental procedures due to medications she was on. It was filed on March 13, 2017 in Health Claims Arbitration. This is the 121st medical malpractice case filed in Maryland in 2017.
Summary of Plaintiff's Allegations
Plaintiff is a patient of defendant dentist at Family Dental. She develops a problem with an existing bridge, and after a consultation, defendant gives her the options to either have a new bridge fabricated or to have the bridge removed and inserting a denture. Due to the difference in cost, plaintiff opts for the denture insertion option.
The woman is referred to have her teeth extracted. She is told that defendant dentist is unable to perform the extraction under sedation but that the facility he is referring her will be able to do so. This facility writes a letter with information indicating that the plaintiff is on a medication, Xgeva, due to breast cancer. Defendants are copied on this correspondence. This medication is contraindicated in patients requiring extensive dental work.
The extractions are carried out as no mention is made by defendants about complications being a possibility due to the medication. Next, the woman returns to defendants to have the denture inserted. However, the denture is unable to be placed in her mouth. For many months, in an attempt to place the denture, a large quantity of her upper jaw bone is extracted. However, defendants are still unsuccessful.
The woman goes to her oncologist and tells him about the significant dental work. This is alarming to the oncologist, due to the woman taking Xgeva. All injections of the drug are cancelled.
The plaintiff files this claim against defendants, alleging they had notice she was taking the drug prior to initiating dental work but failed to obtain informed consent for the procedures. In the time since the procedures, the plaintiff has lost all of her teeth in her upper jaw and is still unable to have a denture placed in her mouth.
Additional Comments
Clearly, it was a mistake to be providing this dental care while this woman was taking this drug. I'm not sure what the defense would be to the negligence claim would be other than arguing this particular plaintiff was not at risk. But it is hard to envision what the defense would be.
The issue here is causation. It the problem with putting in the dentures related to the use of Xgeva? If they are ultimately able to put her dentures in, you have to wonder what the damages are for delay in being able to have dentures.
Defense lawyers are going to attack the expert's report in this case for not alleging specific acts of negligence and linking the negligence clearly with the injury.
Jurisdiction Defendants
A Brooklyn, Maryland dentist
Family Dental Care
An oral surgeon in Severna Park
Chesapeake Oral Surgery Associates
Negligence
Failure to inform of risk of failure or unfortunate side effects associated with a treatment
Failure to inform the plaintiff that the probability of a successful denture being seated in her mouth were extremely low due to her medication
Failure to warn the plaintiff of the complication
Failure to advise plaintiff so she could make an informed decision as to treatment of her dental condition
Failure to recognize and take precautions in the treatment of plaintiff that a reasonable and prudent dentist would have exercised in the same circumstances
Specific Counts Pled
Lack of Informed Consent
Negligence
Loss of Consortium
Plaintiff's Experts and Areas of Specialty
Larry Layton, D.D.S.- practice includes general dentistry, prosthetics, implants, and gum problems
Getting a Lawyer for Your Dental Malpractice Claim
If you sustained an injury due to the negligence of a dentist, Miller & Zois can help. We have a very long history of results in medical malpractice cases in Maryland, earning large verdicts and settlements. Give us a call today at (800) 553-8082, or get a free online case review.
More Malpractice Claim Information
Other dental malpractice cases filed in Maryland: