Down Syndrome Misdiagnosis Lawsuit in P.G. County
Evans v. Kaiser Foundation Health Plan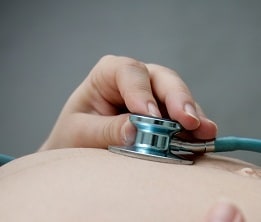 This is a medical malpractice lawsuit filed against a gynecologist in Prince George's County after a delayed diagnosis of Down Syndrome in her baby. Specifically, after it was too late to terminate her pregnancy. The case was filed in Health Claims Arbitration on March 2, 2017. It was filed in January 2017 It is the 104th medical malpractice case filed in Maryland in 2017.
Summary of Plaintiff's Allegations
Plaintiff becomes a patient of defendant doctor at Kaiser Permanente for her pregnancy. Defendant provides obstetrical care to her throughout her pregnancy.
An ultrasound is done for her first-trimester screening. A month and a half later, when the plaintiff's gestational age is thought to be 20 weeks and two days, she has a fetal anatomical ultrasound done. This is deemed to be incomplete, with limited visualization. A follow-up is advised, due to a finding of borderline bilateral renal pyelectasis. A follow-up is scheduled for two weeks out.
The ultrasound is done. The radiologist is unable to adequately visualize parts of the ventricular outflow tract and facial profile. Defendant reviews the results and tells the plaintiff to return for more images. Another ultrasound is done a few weeks later, when the woman is 24 weeks along. This time, the radiologist finds the fetal anatomy visualization to be complete, and to reflect persistent mild renal pyelectasis.
At 25 weeks and three days, defendant orders a targeted sonogram. At 26 weeks the woman is seen by a maternal-fetal medicine physician to have a high-risk consultation. This targeted ultrasound reveals no abnormalities except pyelectasis with amniotic fluid index. Defendant discusses these results, and the plaintiff declines non-invasive prenatal testing. Instead, she opts for amniocentesis (a procedure used to diagnose chromosomal abnormalities by taking fluid from the amniotic sac), despite defendant's counseling regarding the risk of pregnancy loss.
The next day, at 26 weeks three days, the woman is informed that the results of the amniocentesis are consistent with Down Syndrome. It is too far along in her pregnancy at this point for termination.
The plaintiff alleges that the defendants' failure to timely order appropriate testing and referrals after a finding of pyelectasis resulted in her not learning that her baby had down syndrome until after it was too late to terminate her pregnancy. She argues that if she would have been advised of this finding sooner, she would have opted to terminate her pregnancy.
Additional Comments
Under Maryland law, the parents can bring a wrongful birth claim. Such a claim allows damages measured by the extraordinary cost of supporting the child with severe birth defects versus the normal costs of raising a child.
These are tough cases. In fact, the scope of "wrongful birth" claims are tied in with the legality of abortion. Many jurors, particularly in our more conservative counties, are uncomfortable with abortion. But juries are also uncomfortable with saddling parents with the cost of raising a child who has very special needs which may cost an absolute fortune.
Jurisdiction Defendants
An OB/GYN
Kaiser Foundation Health Plan of the Mid-Atlantic States/Marlow Heights Medical Center
Mid-Atlantic Permanente Medical Group, P.C.
Kaiser Foundation Health Plan of the Mid-Atlantic States, Inc.
Negligence
Failure to properly and timely offer comprehensive first trimester and second-trimester screening to the plaintiff at her prenatal visit
Failure to properly and timely advise the plaintiff of availability of all prenatal testing for Down Syndrome appropriate under the circumstances
Failing to properly advise the plaintiff as to the urgency of a diagnosis
Failure to properly refer the plaintiff for further screening based on diagnosis and suspicion
Failure to advise the plaintiff of all information necessary to make informed and reasoned decisions about the condition and health of the fetus
Specific Counts Pled
Negligence
Negligence - Apparent Agency
Plaintiff's Experts and Areas of Specialty
Benjamin Hamar, M.D. - board certified in Obstetrics and Gynecology as well as maternal-fetal medicine; licensed to practice in Massachusetts; affiliated with Beth Israel Deaconess Medical Center and Beverly Hospital
Getting a Lawyer for Your Medical Malpractice Claim
If you have been injured due to a doctor's negligence, we can help you. Call Miller & Zois today and speak to a medical malpractice attorney who can help you at (800) 553-8082 or get a free online case review.
More Malpractice Claim Information