Lap Chole Malpractice Lawsuit in Frederick County
Anonymous v. Anonymous Doctor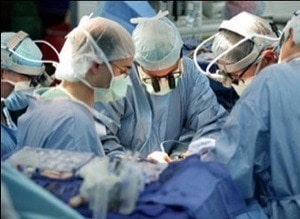 This is a gallbladder surgical malpractice lawsuit filed in Frederick County against a doctor at Frederick Memorial Hospital. It was filed by Miller & Zois on March 3, 2017, and it is the 110th medical malpractice case filed in Maryland in 2017.
Summary of Plaintiff's Allegations
Plaintiff goes to defendant doctor at Frederick Memorial Hospital for a laparoscopic cholecystectomy (a procedure to remove the gallbladder). During the procedure, defendant surgeon lacerates the woman's common hepatic duct/common bile duct.
The woman files this claim, alleging that as a result of the defendant's negligence during the surgery, she suffers permanent injuries.
Additional Comments
This is a classic failure to identify the biliary anatomy before cutting case. Our law firm, Miller & Zois filed this case. We tried and settled a lot of lap chole cases. We do not think any other law firm provides as much information on-line about lap chole surgery injuries than we have.
We cannot talk a ton about this case because it is ours. But, generally, the hepatic artery can be mistaken for the gallbladder artery, and the gallbladder duct can be mistaken for the common bile duct. It's a relatively classic-type injury where the common bile duct is misperceived as being the cystic duct, and it is clipped or cut.
The best way to prevent bile duct injury is the identification of what's called the trifurcation, which is a junction of three structures, the common bile duct, the gallbladder duct, and the common hepatic duct that comes from the liver.
In many of these cases, the issue is the surgeon's failure to recognize the injury to the common bile duct or the hepatic artery.
In some surgeries, the risk of injury does not vary wildly with the training and experience of the surgeon. The data show that your surgeon's experience in performing lap chole's is extremely important to your odds of getting a good outcome. There is no question there is a real learning curve to this procedure. If you are getting a lap chole, you want to ask the surgeon all of the right questions about his or her experience and rate of complications.
The defense in these cases is often the patient had anomalous or abnormal anatomy. We had a case recently where the doctor did not allege abnormal anatomy, which is very… abnormal in these cases.
This gist of these cases is that if the surgeon has any doubt what is being clipped or cut, just stop. If the surgeon cannot see, another path needs to be found. If you are doing a laparoscopic procedure like a lap chole, which is an operation done by instruments through tiny holes punched into the body, stop and convert the operation to what is called an open procedure. This means going old school and putting an incision into the patient so you can see what you want to cut as opposed to looking through an instrument stuck down a tiny hole.
Jurisdiction Defendants
A surgeon Frederick Memorial Hospital
Negligence
Injuring the plaintiff's common bile duct and causing an injury
Breaching the applicable standard of care
Specific Counts Pled Plaintiff Firm/Attorneys Getting a Lawyer for Your Surgical Malpractice Claim
Have you been injured due to the negligence of a doctor? If so, our law firm can help you. Call Miller & Zois today to speak to a medical malpractice attorney at (800) 553-8082, or get an online case evaluation.