Surgery Leads to Hematoma Lawsuit in Baltimore City
Phillips v. Mercy Medical Center, Inc.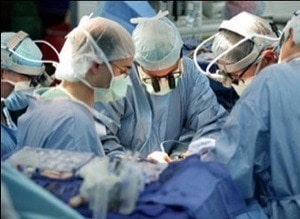 This is a surgical malpractice lawsuit filed by a man in Baltimore City after he develops a hematoma that goes untreated by doctors after a laminectomy procedure. This case was filed on March 9, 2017, in Health Claims Arbitration, making it the 119th medical malpractice case filed in Maryland in 2017.
Summary of Plaintiff's Allegations
A 44-year-old man has a work-related left foot crush injury. Due to this, he suffers from chronic, severe pain and recurrent deep vein thrombosis in his left lower extremity. Nine years later, he decides to have a laminectomy with the placement of a permanent spinal cord stimulator at Mercy Medical Center. There are no complications during the surgery.
While in the post-anesthesia recovery unit, he begins to have severe lower back pain. He is told that his surgeon will be notified. He tells his nurse that the pain medication is not working and that he has 'unnatural feelings' in his leg and increased back pain. He develops tingling sensations and becomes unable to move his legs. Almost eight hours later when his doctor is finally notified, he documents complete paraparesis with a loss of complete motor functions of the lower extremities. The doctor performs an emergency evacuation of a thoracic hematoma with a removal of the spinal cord stimulator paddle.
Plaintiff alleges that as a result of the delay in evacuating the hematoma in his back, he suffers from partial thoracic paraplegia, bilateral leg weakness and pain, intermittent numbness, erectile dysfunction, and a lack of bladder control. Plaintiff claims that these injuries are permanent.
Additional Comments
There is an expert report. It says that there is a breach of the standard of care. It does not identify who at Mercy was negligent. The doctor does not explain why Mercy was negligent. The report says that someone should have acted faster. But it does not identify who the negligent parties are. One would assume it is the nurses but the expert says he has not seen all of the records and explicitly states he has not seen the nurse's notes. The statute of limitations for this case will be in May. Mercy is usually represented by Goodell, Devries, Leech & Dann or Gallagher, Evelius & Jones. You can expect they are going to attack this Certificate of Merit and the expert's report.
Medically, the expert report makes sense. The doctor's point is that there is a very long delay between when the patient report's concern and the doctors addressing that concern. But it is hard to imagine that Mercy just ignored this man for six hours while he claims he had no feeling in his legs. It is possible but these would be some Nurse Ratched/Annie Wilkes level of care which you would not expect at Mercy. Malpractice at Mercy Hospital is not shocking. Indifferent care, on the other hand, would be shocking.
The strength of plaintiff's case is that he has suffered just an awful injury at a very young age. A Baltimore jury would understandably be very sympathetic towards him. He may well have a case. But his lawyers need to spell out the exact negligence over the discovery process. If it is the delay in responding to his symptoms as Dr. Katz' report, plaintiff's malpractice lawyers need to articulate with medical evidence why the delay is the cause of the harm in this case.
One rule to follow is to give the medical expert every possible medical record to review when asking the expert to review a case.
Jurisdiction Defendants
Mercy Medical Center, Inc.
Hospitals Where Patient was Treated Negligence
Failure to accurately assess a surgical complication following surgery
Failure to render appropriate care to recognize a medical condition that needed emergency medical or surgical care
Failure to provide proper treatment
Failure to immediately notify an attending physician or surgeon of an emergency situation
Failure to follow the attending surgeon's instructions
Specific Counts Pled Plaintiff's Experts and Areas of Specialty
David Katz, M.D. - board certified in neurology; published 200 scientific articles and books in preventive medicine and nutrition; established the True Health Initiative. He is certainly a qualified expert.
Getting a Lawyer for Your Surgical Malpractice Claim
Have you suffered an injury due to the negligence of a doctor? Miller & Zois can help you! Call us today and talk to a caring medical negligence attorney who can assist you at (800) 553-8082. You can also get a free online case review.
More Malpractice Claim Information