Liposuction Malpractice in Anne Arundel County
Buckley v. Anne Arundel Medical Center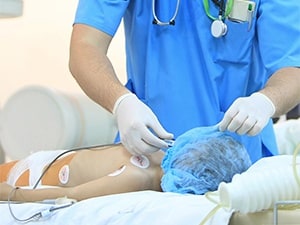 This is a cosmetic surgery malpractice lawsuit filed by a woman in Anne Arundel County. It was filed in Health Claims Arbitration on March 7, 2017, and is the 113th medical malpractice claim filed in 2017 in Maryland.
Summary of Plaintiff's Allegations
Plaintiff goes to Maryland Plastic Surgery in Glen Burnie to see defendant doctor to get a lot of plastic surgery work done. These include a bilateral periareolar mastopexy (a breast lift with implants), and tumescent liposuction abdomen, hips, and left breast, with fat transfer to superior buttocks procedures. In other words, they take fat from another part of your body and put it in your butt.
Tumescent liposuction is a technique where the fat is injected or infiltrated with fluid. Tumescent involves injection of between one and one and a half cc's of fluid for every cc of fat that you anticipate removing. So if, for example, you were planning to remove 500 cc's of fat, you would inject 500 to 1,000cc's of fluid. The fluid helps to liquefy the fat and makes it easier to suction out. To perform the procedure, local anesthetics is mixed with vasoconstrictive medications and is then injected into the fat. This numbs the area and also limits any bleeding that may happen. The area becomes swollen and firm.
The woman is placed under general anesthesia and the procedure is performed. Defendant doctor suctions fat from the areas. The materials removed from plaintiff's body during the liposuction "settles" into a container, and is then transferred into syringes. The syringes are used to inject the fat into both sides of plaintiff's buttocks. The surgery is completed.
As soon as the woman wakes up from the anesthesia, she has pain in her lower extremities, especially on the right. For five hours, she stays in the defendant's office and complains of excruciating pain. Defendants administer twelve doses of pain medications that do not provide the woman any relief.
After nearly five hours, plaintiff demands that defendants call 911 to have an ambulance take her to the nearest emergency room. It what sounds like a movie scene, the doctor instead drives the woman Anne Arundel Medical Center in his own call. It is a bit of curious choice since it is further than Baltimore Washington Medical Center. She is admitted for observation in the medical surgical unit. Two hours later, during a physical exam, doctors are unable to find pulse in either foot or a radial pulse. They document that the plan is to observe the woman and to consult vascular surgery.
It is not until early the next morning that a vascular surgeon evaluates the woman. At this point, her right lower leg and foot have greatly restricted blood supplies, her right foot up through her knee is getting worse, and she has no motor or sensory function in her right foot. She is taken to the operating room and several surgeries are performed, including - right popliteal and tibial artery exploration, open thrombectomy of popliteal artery, anterior tibial artery and tibioperoneal arteries, and four-compartment fasciotomy. A blood clot is removed, but during post-op, plaintiff suffers pain, renal failure, an infection, anasarca, and anemia requiring transfusions.
After fifteen days, plaintiff is released from AAMC with a right lower extremity would that is painful and she has no function below her right knee. After months of physical therapy, she still has no motor or sensory functions in her right lower extremity. She also alleges chronic neuropathic pain in her lower extremities due to the injection of fat into her arterial system.
Additional Comments
Our last popliteal artery case resulted in a $5.2 million verdict in Baltimore City. In that case the victim lost his leg but it sound like the plaintiff here has the same function problems. Legally, the difference is the cost of replacing and maintaining and artificial leg which has a significant impact on non-economic damages that can be presented to a jury.
Although inadvertent injury to a nerve or artery is a recognized rare complication of liposuction, it can happen. That will be the defense of this case. Another defense is going to be the plaintiff had so many adhesions it was hard to be able to see where to cut.
Tumescent liposuction was a real liposuction advance because it keeps the level of general anesthesia low and minimizes blood loss. Many of these cases years go involved anesthesia-associated injuries. Still, a tumescent liposuction can cause serious injury or death because, among other possible complications, lidocaine toxicity or lidocaine-related drug interactions can put patients at real risk.
Jurisdiction Defendants
A Glen Burnie Plastic Surgeon
Maryland Plastic Surgery, LLC
A primary care doctor who was also sued last December in a medical malpractice case (but has no recent settlement or verdict reported against this doctor
Mdics at Anne Arundel, LLC
Anne Arundel Medical Center, Inc.
Hospitals Where Patient was Treated
Anne Arundel Medical Center
Negligence
Performed surgery in a negligent manner resulting in the injection of fat into the plaintiff's arterial system
Negligently failed to provide medical diagnosis, care, treatment, and appropriate transfer in a timely manner post-operatively
Failed to arrange appropriate vascular consultation in a timely manner
Plaintiff's Experts and Areas of Specialty
Nelson H. Goldberg, M.D. - certified by American Board of Plastic and Reconstructive Surgery; Professor of Plastic Surgery at University of Maryland School of Medicine; chair of plastic surgery at Baltimore Washington Medical Center
Getting a Lawyer for Your Surgical Malpractice Claim
Miller & Zois can help you get the compensation you deserve if you have suffered an injury due to the negligence of a doctor. We have a very long history of results in surgical malpractice cases in Maryland, earning large verdicts and settlements. Get a free online case review or call us at (800) 553-8082 to talk to an attorney today.
More Malpractice Claim Information