Dental Malpractice Lawsuit in Baltimore County
Barton v. Krupp Center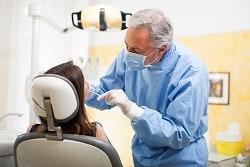 This is a dental malpractice lawsuit filed by a woman in Baltimore County. This case involves more It was filed on March 1, and is the 103rd medical malpractice case filed in Maryland in 2017. This is more serious than your typical dental malpractice case which often has limited damages. In this case, the injury alleged is an infection that caused the need for reconstructive surgery of her jaw.
Summary of Plaintiff's Allegations
Plaintiff goes to defendant dentist with a fractured bicuspid on the bottom right side of her mouth. Defendant dentist sedates her and extracts the tooth.
Three months later, the woman returns to him with pain in her bottom teeth involving her tongue. Defendant dentist notes that multiple teeth are in pain but that he is unable to isolate which tooth is causing the woman pain. He refers her to a specialist.
Plaintiff goes to defendant oral/maxillofacial surgeon and indicates that her bottom teeth are very painful. He determines that the molars on the top and bottom of the left side of her mouth are infected. Defendant sedates her and extracts them. Despite the extractions, the woman continues to have significant oral pain.
She seeks another opinion from an otolaryngologist (an ENT physician). She complains of a sore throat, swollen glands, and ear pain in addition to tooth and tongue pain with swelling under her chin. She tells him the extractions have not helped to reduce her pain and she is losing weight. She tells him she's been given multiple antibiotics that have not helped. She is diagnosed with chronic pharyngitis of an infectious etiology and is given both steroids and antibiotics. The ENT doctor does not order images to look for other signs of an infection. He apparently does not suspect osteomyelitis.
Two weeks later, plaintiff returns to the otolaryngologist with the same complaints. In fact, her symptoms are getting worse. He orders a CT which is done the next day, but the woman does not hear back. She calls the otolaryngologist to find out the results and tells him she is continuing to get worse. She receives a phone call from her primary care provider later who tells her that her white blood cell count is more than double the normal amount, and advises her to go to the ER urgently.
When she gets to the ER, plaintiff tells them about her sore throat for the past four months, despite antibiotics. She tells them she has not eaten solid foods for months and she experiences a fever off and on. The ER calls the otolaryngologist, whose nurse practitioner indicates that he will see her the next day. The nurse practitioner emails him to tell him the woman is in the ER, and he responds the next day, indicating he will see her as scheduled.
However, he does not see her the next day. He sees her three days later when once again, she has the same symptoms. He decides to send her back to the ER to get intravenous antibiotics, but does not order images and does not suspect her symptoms could be the result of a bone infection.
She is admitted to Franklin Square Hospital for the course of three days. During her stay, she receives antibiotics and IV steroids. No CT scans are done. After she is discharged, her symptoms do not improve. A few weeks later, she reports a lump in her throat to the otolaryngologist. He schedules an appointment for three days later, despite her requests to have an appointment sooner. During her appointment, he orders an MRI of her neck and face and again prescribes antibiotics and steroids.
Plaintiff goes to her pain management physician who she typically sees for treatment of fibromyalgia. She has a rash on her upper left chest. He is concerned and arranges for a second opinion the same day with a Mercy Hospital ENT doctor. This ENT immediately suspects the woman has a deep infection in her jawbone. She orders a prompt MRI and a bone scan. These reveal that she has a bone infection in her jaw (osteomyelitis) and she is told to urgently go to an oral surgeon.
She is admitted to University of Maryland Medical Center. A bone biopsy is done, she receives IV antibiotics, and a fine needle aspiration of her lymph node (a biopsy where a needle is inserted into an area of tissue or body fluid).
Three months later, she is re-admitted to University of Maryland for surgical treatment of the bone infection. She has major reconstructive surgery of her jaw done. The woman alleges that as a result of the negligence of the dentist and oral surgeons, she is left with noticeably impaired speech, the inability to eat hard foods, and complications from her left leg after it was used as a bone graft for her jaw. She also has significant scarring across her throat.
Additional Comments
The Complaint does not mention whether the victim had diabetes. If she did, the doctors are going to blame her diabetes as the cause of the injuries.
People who have fibromyalgia often do not get the care they need because doctors assume the patient manufacturers symptoms. No one can say whether this was a factor here. But it happens.
The other argument the ENT and dentists will make that this is just a tough diagnosis. There is one journal article on the topic about a patient who was misdiagnosed with a jawbone infection for 50 years. More details about her signs and symptoms are going to be important.
Elsewhere on our website, we have settlements and verdicts in other bone infection cases.
Jurisdiction Defendants
An ear, nose and throat doctor
Drs. Gehris, Jordan & Associates, LLC, who is the doctor's employer
A dentist and oral/maxillofacial surgeon
Krupp Center, the dentist's employer
Another dentist
Hospitals Where Patient Was Treated Negligence
Failing to appreciate plaintiff's complaints of symptoms suggestive of bone infection
Failing to timely respond to plaintiff's complaints
Failing to order appropriate diagnostic and radiographic testing to investigate plaintiff's complaints
Failing to timely diagnose plaintiff's bone infection
Failing to order appropriate and timely treatment for plaintiff's bone infection
Specific Counts Pled
Negligence
Loss of Consortium
Plaintiff's Experts and Areas of Specialty Getting a Lawyer for Your Dental Malpractice Claim
If you've suffered due to the negligence of a doctor or dentist, Miller & Zois can help you get the compensation you deserve. We have a long history of results in medical malpractice cases throughout Maryland, earning large verdicts and settlements. Get a free online case review or call us today at (800) 553-8082.
More Malpractice Claim Information