Hospital Fall and Bed Sore Lawsuit Against Southern Maryland Hospital
Alexander v. MedStar Southern Maryland Hospital Center, Inc.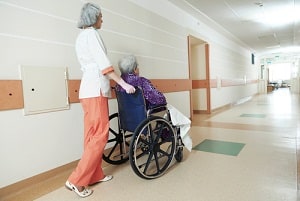 This is a nursing home negligence lawsuit filed after a woman suffered from both a fall and pressure sores while residing MedStar's Southern Maryland Hospital. It was filed on March 8, 2017, in Health Claims Arbitration and is the 115th medical malpractice case filed this year in Maryland.
Summary of Plaintiff's Allegations
A woman is admitted to Southern Maryland Hospital for diabetes, liver disease, hypertension, anasarca (swelling of the body), and dementia. She is evaluated to be at a high fall risk. However, within five days, she suffers a fall. She also develops a bed sore within a week of moving into the facility.
The woman suffers severe bruising on her back, sides, and buttocks due to the lack of care she received while at Southern Maryland Hospital.
She dies 19 months later.
Additional Comments
In nursing home negligence cases, the plaintiff's typically claim either the failure to prevent a fall or the development of bed sores. Here, without many details, the plaintiff alleges that within just one week of staying at the facility, she both fell and developed a bed sore.
The lawsuit alleges wrongful death. The first question is what killed this woman? Was it a bed sore? Was it the fall? Was it a combination of the two? It will be interesting to see what an expert will say. Making it all the more challenging is that the woman did not die until 19 months later.
If this woman's family wants to bring a wrongful death claim, they are going to have to amend the lawsuit. There is no wrongful death count and no wrongful death beneficiaries named in the lawsuit.
Currently, the only viable claim from this lawsuit would be the 19 months of pain and suffering endured by this woman.
The claim says the fall caused "severe bruising on her back, both sides, and buttocks." You would expect a more serious injury. He is no mention of the bed sore injuries which makes you question the severity of those injuries as well.
Jurisdiction
Prince George's County (Upper Marlboro)
Defendants
MedStar Health, Inc.
MedStar Southern Maryland Hospital Center, Inc.
Negligence
Failing to protect the woman from falls
Failing to ensure that fall protection mechanisms being utilized were effective
Failing to implement appropriate fall protection mechanisms
Failing to modify fall precautions in place to meet the safety needs of the woman
Failing to rotate the woman while in bed
Failing to provide care to prevent bed sores
Specific Counts Pled Plaintiff's Experts and Areas of Specialty Getting a Lawyer for Your Nursing Home Negligence Claim
If you or a loved one have suffered due to the negligence of a hospital or nursing home staff, our law firm can help you get the compensation you deserve. Miller & Zois has a long history of results in nursing home negligence cases in Maryland, earning large verdicts and settlements. Call us today at (800) 553-8082 or get a free online case review.
More Malpractice Claim Information
A bed sore case filed against MedStar Southern Maryland in January 2016
Some verdicts and settlements from nursing home cases in Maryland
Other nursing home cases filed in 2017 in Maryland