Nursing Home Pressure Ulcer Lawsuit in Annapolis
Holland v. North Arundel Nursing and Rehabilitation Center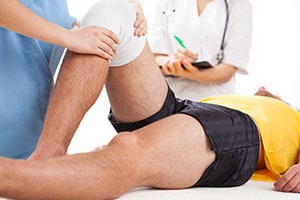 This is a nursing home failure to prevent pressure ulcers lawsuit filed by a man in Anne Arundel County against the Sava Senior Care facility. It was filed in Health Claims Arbitration on March 27, 2017, and it is the 146th medical malpractice case filed in Maryland in 2017.
Summary of Plaintiff's Allegations
Plaintiff goes to defendant Sava Senior care facility after having surgery on his knee. He is there for short-term rehabilitation. Upon admission, he is found to be at an increased risk of pressure ulcers and to have very limited mobility. The staff, however, fails to implement necessary procedures to keep him from developing pressure ulcers.
Less than a month after his admission, he is taken to the hospital due to mental status changes. When he gets to the hospital, he is found to be suffering from acute kidney injury due to urinary retention, a UTI, sepsis, and a stage IV pressure ulcer on his sacrum infected with E Coli.
He files this claim against the facility, alleging that he developed these serious injuries due to the negligence of the staff at the facility.
Additional Comments
The most common nursing home cases we see are bedsores. The second most common lawsuit is falls. The third is undiagnosed and untreated UTIs. This plaintiff had both a pressure sore and a UTI.
The impression you get was that this man was not in a nursing home before his knee surgery. This makes a better case than someone who has been in a nursing home for an extended period.
The big issue assuming Sava Senior Care was negligent is the value of the case. It is hard for nursing home lawyers to economically justify the costs of the litigation - which is fronted by most nursing home attorneys in Maryland - unless there is a permanent injury or death. In fact, many malpractice lawyers will not take ANY nursing home cases because the damages are typically limited to the pain and suffering cap in Maryland and the medical bills. Why? Because the biggest upside to a malpractice case is future lost wages which are rarely an issue in nursing home cases.
One brand of lawyer you regularly see in nursing home cases is lawyers who are afraid to try to case. Why do these lawyers pick nursing home litigation? Nursing home cases almost invariably settle. Sava Senior Care is not racing to the courthouse steps. Neither are many of these big chain nursing homes that make up the defendants in the vast majority of these nursing home cases.
If you want to settle your case, does it hurt you to have a nursing home lawyer who always gets his or her cases settled? Yes! Why? Because if a lawyer is unwilling to take a case to trial, it destroys that lawyers ability to maximize the value of that claim.
Jurisdiction Defendants
Glen Burnie North Arundel Operating Company
North Arundel Nursing and Rehabilitation Center
Sava Seniorcare, LLC
Negligence
Failing to provide reasonable and appropriate nursing, rehabilitative, and medical care
Failure to undertake interventions to prevent plaintiff from developing pressure ulcers or avoidable skin wounds
Failure to provide proper care and interventions to prevent infections
Failure to monitor plaintiff's nutrition and hydration status to ensure he did not dehydrate or develop renal failure
Failure to keep accurate and correct medical records and failure to refrain from entering false information on medical records
Getting a Lawyer for Your Nursing Home Negligence Claim
If you have suffered an injury due to the negligence of Sava Senior Care or any other nursing home, our firm can help you. You are entitled to justice and compensation for what you have endured, and Miller & Zois has a long history of obtaining large verdicts and settlements in nursing home negligence cases in Maryland. Get a free online case review or call us at (800) 553-8082 and speak to an attorney who can help you.
More Malpractice Claim Information