Pulmonary Embolism Misdiagnosis in Baltimore County
Becker v. ExpressCare of Parkville, LLC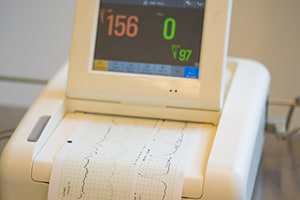 This is a failure to diagnose a pulmonary embolism lawsuit against ExpresCare filed after a woman's death in Baltimore County. Filed on March 1, 2017, it is the 100th medical malpractice case filed in Maryland in 2017.
Summary of Plaintiff's Allegations
A 69-year-old woman goes to defendant ExpressCare in Parkville. This is an urgent care facility and part of the LifeBridge Health System. She has shortness of breath, cough, chest congestion, and difficulty breathing with exertion for the past four days. She is found to have an increased heart rate and abnormal lung sounds. These signs and her symptoms should raise concerns for pulmonary embolism and ischemic heart disease. ExpressCard probably will not argue this point.
A chest X-ray is done and interpreted to show signs of infiltrate. But it is later re-read and found to be normal. So the doctor concludes that she has pneumonia or an upper respiratory infection, and discharge her with antibiotics. They tell her to follow up with her primary care provider.
That same evening, EMS is called to the woman's home and they find her in severe respiratory distress with oxygen saturations. Her condition quickly deteriorates. She dies soon after EMS arrives. Her Estate claims that the defendant should have conducted a CT scan and done additional tests to diagnose her pulmonary embolism in light of her complaints and history.
Additional Comments
Patients often die of a pulmonary embolism without any symptoms. But this woman had shortness of breath, difficulty breathing, and an increased heart rate. These are classic symptoms of a pulmonary embolism. It certainly seems like something the doctors should rule out.
Defendants are going to argue that most chest x-rays of those dying of acute pulmonary embolism cannot confirm the diagnosis. They will cite some studies that purport to show that patients who die of undiagnosed pulmonary embolism have no specific radiographic findings But, at some point, someone thought there was an infiltration. The argument is that they read the chest x-ray correctly showing nothing was there even when they originally thought something was there. Boy, that is a tough argument to sell when the patient ultimately dies of pulmonary embolism if the plaintiff has a credible expert that says there was something there that should have been seen.
Plaintiff's experts are likely to testify that the immediate administration of anticoagulants would have saved this woman's life.
Jurisdiction Defendants
ExpressCare of Parkville, LLC
Doctor at ExpressCare
A physician's assistant at ExpressCare
Negligence
Failure to properly assess the woman's condition
Failure to appropriately appreciate the woman's risks
Failure to diagnose a pulmonary embolism
Failure to order a STAT CT-scan
Failure to arrange for emergent follow-up and monitoring
Failure to instruct the woman to present for emergency care
Negligently discharging the patient with instructions to follow-up with her primary care provider
Specific Counts Pled
Survival Action
Wrongful Death
Informed Consent
Getting a Lawyer for Your Medical Malpractice Claim
Contact Miller & Zois today if you have suffered an injury due to the negligence of a doctor. We can help you get the compensation and justice you deserve. You can get a free online case review, or call us at (800) 553-8082 to talk to an attorney who can help you.
More Malpractice Claim Information