Failure to Diagnose Cancer Lawsuit in Wicomico County
Roeser v. Atlantic General Hospital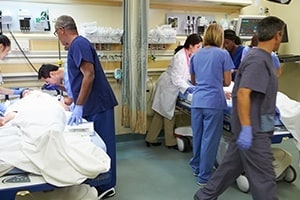 This failure to diagnose Stage III cancer lawsuit was filed by a woman in Wicomico County, against both Peninsula Regional Medical Center and Atlantic General Hospital. It was filed on March 8, 2017, and is the 117th medical malpractice lawsuit filed in Maryland in 2017.
Summary of Plaintiff's Allegations
Plaintiff is a 56-year-old woman who is diagnosed with vulvar cancer. She has a vulvectomy and completes post-operative chemo and radiation therapies in the same year. No further treatment is recommended.
Five years later she begins to have painful bowel movements. She develops a blister around her perianal area that ruptures. The woman consults a doctor at Baltimore Washington Medical Center. She is referred to a wound doctor.
Eventually, the woman goes to Atlantic General Hospital where she is diagnosed with a chronic skin ulcer. She has a CAT scan done which the radiologist interprets as having no signs of cancer, but that it there is some blurriness regarding the details.
Four days later, defendant doctor at Atlantic General documents a chronic ulcerated area. Debridement of the wound is done, and she is once again diagnosed with a non-healing anal wound. Wound debridement is done for the next few weeks but no biopsies are performed.
Defendant doctor refers the plaintiff to defendant doctor at Peninsula Regional Medical Center. This doctor finds that the plaintiff has a perirectal wound eroding the rectal cavity. She is diagnosed with an anal wound, secondary to late effects of radiation. She has a diverting loop colostomy done. After the procedure, pursuant to doctor's recommendations, the plaintiff receives hyperbaric oxygen therapy five days a week, for three months.
Multiple times during therapy her wound is measured and documented. Despite its increase in size, and no pain relief, no biopsies are done. After two months, a biopsy is recommended "in the future." When it is done, the results confirm invasive squamous cell carcinoma of perianal area, stage III.
The plaintiff is admitted to the University of Maryland Medical Center a few months later. She has surgery to remove organs including her colon, rectum, uterus, cervix, and parts of her vagina. She also has to have pelvic reconstructive surgery done. Two years later, she has a local excision of a cyst done, and she is left taking narcotic pain medications.
The woman files this claim against Atlantic General and Peninsula Regional Medical Center, alleging that they failed to biopsy her non-healing wound, resulting in the failure to diagnose her cancer promptly.
Additional Comments
Plaintiff's malpractice attorney has found an expert to say that the care rendered was negligent. The challenge is going to be damages and, more specifically, causation. Can an expert opine to a reasonable degree of medical probability that a six-month gap was the difference maker to the treatment she received? That is going to be the big issue in the case. An oncologist needs to convince a Wicomico County jury that she would not have been Stage III if she had been caught earlier.
Another question is whether she had cancer when she was evaluated six months before she was diagnosed. This cancer evolves from benign to malignant.
Incredible stat: Between 40-50% of Americans who live to age 65 will have either basal cell carcinoma or squamous cell carcinoma at least once.
Jurisdiction Defendants
A Crisfield Surgeon
Atlantic General Hospital Corporation
A Salisbury physiatrist
Peninsula Regional Medical Center
Hospitals Where Patient was Treated
Baltimore Washington Medical Center
Peninsula Regional Medical Center
University of Maryland Medical Center
Negligence
Failing to biopsy a non-healing wound
Failing to diagnose cancer promptly
Allowing cancer to progress to an advanced stage
Treating plaintiff with unnecessary medical therapy
Failing to refer plaintiff for appropriate medical treatment
Subjecting plaintiff to numerous painful wound debridement's
Specific Counts Pled Plaintiff's Experts and Areas of Specialty
Stephen M. Cohen, M.D. - board-certified in general surgery and colon/rectal surgery; director of Acute Care Surgery at Greenbrier Valley Medical Center
Getting a Lawyer for Your Failure to Diagnose Malpractice Claim
If you have suffered an injury due to the negligence of a doctor, our firm can help you. You are entitled to compensation and justice. Miller & Zois has a very long history of results in medical malpractice cases in Maryland, earning large verdicts and settlements. Check out our record for yourself and then call Miller & Zois today to speak to an attorney who can help you at (800) 553-8082, or get a free online case review.
More Malpractice Claim Information
Some verdicts and settlements in cancer misdiagnosis cases in Maryland
Other failure to diagnose cancer cases filed in 2017 in Maryland:

A case from Allegany County alleging the failure to diagnose prostate cancer as well as a failure to diagnose osteosarcoma case in Baltimore City
In February, a case filed against Johns Hopkins alleging the failure to diagnose carcinoma in a woman's right eye as well as a failure to diagnose liver cancer case filed against GBMC