Surgical and Anesthesia Liposuction Malpractice Lawsuit
Douglas v. Dimensions Health Corporation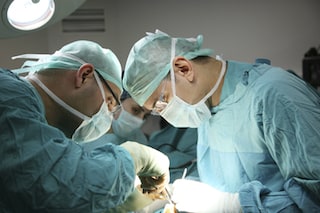 This is an anesthesia and surgical malpractice lawsuit filed on behalf of a man in Prince George's County after he undergoes liposuction. It is the 101st medical malpractice case in Maryland in 2017, filed on March 1, 2017.
Summary of Plaintiff's Allegations
A 43-year-old man has an outpatient surgical liposuction of his abdomen done at defendant Dimensions surgery center under the care of a plastic surgeon. Defendants go forward with the surgery, despite not obtaining pre-surgical medical clearance evaluations.
The anesthesiologist provides general anesthesia to the man, despite his documented obstructive sleep apnea and morbid obesity. Because pre-surgical examinations are not done, the patient is not informed of the surgical risks associated with his procedure. As the anesthesiologist attempts to place the endotracheal tube, he encounters difficulties and fails multiple times. During the prolonged attempts, the man sustains critical oxygen deficits. Defendants finally decide to exchange the tube for a different one, and the endotracheal tube is successfully placed.
After they administer the anesthesia, defendants place the man face down on the table. While in this position, he is given two more doses of Fentanyl, and he stops breathing. Defendants proceed to manually deliver ventilation with a bag for the remainder of the two-hour liposuction. This is documented as being "mildly" difficult due to the man's excessive body weight around his chest.
After the procedure is over, defendants observe that the man has stopped breathing and note full cardiopulmonary arrest. Resuscitation efforts are initiated, and a lab analysis confirms acidosis due to prolonged oxygen deprivation. He remains critically unstable.
The man is airlifted to University of Maryland Medical Center to receive better care, but he remains unstable. Resuscitation efforts are abandoned. His death certificate indicates his death was accidental due to the injury (abdominal wall perforation) sustained while he was under defendant's care. Two perforations are found in his small bowel, and four are found in his right transverse abdominal muscle.
Additional Comments
Plaintiff's malpractice lawyer alleges in the lawsuit that the standard of care required the decedent receive a complete medical workup on Mr. Witwen before performing the liposuction. If this is true, and the complaint certainly leads you to suspect that this was the case, plaintiff still must show that the decedent was a poor surgical candidate for liposuction and, if such a workup were performed, the surgery would not have occurred.
Plaintiff's expert charges that the defendant doctor basically abandoned the patient by not participating in the resuscitation efforts.
The plan was to take out more than five liters of fat and fluid which is a lot.
Liposuction is a relatively "blind" procedure in that the surgeon must rely on the tactile feedback through the liposuction cannula. The cannula is a thin, rigid tube inserted into a vein or body cavity to insert a surgical instrument. The cannula has ports on the end that allows the suction to reach the tissue and then to pull the tissue apart. The surgeon also uses his other hand -- typically placed on the abdomen - to figure out where he is cutting.
Defendants are going to say perforation is a risk of this procedure and most people getting liposuction are a higher risk for surgery.
Jurisdiction Defendants
Dimensions Health Corporation
Dimensions Healthcare Associates, Inc.
A plastic surgeon
An anesthesiologist
Hospitals Where Patient was Treated
University of Maryland Medical Center
P.G. County Hospital
Negligence
Failure to provide patient with ordinary care including requisite pre-surgical evaluations
Failure to appraise patient's surgical risks before beginning surgery
Failure to include copy of patient's signed history and physical authenticating
Negligently performing liposuction surgery and causing multiple perforations
Failure to communicate with anesthesia provider and surgical team during liposuction
Failure to direct prompt repositioning of patient to facilitate engagement of emergently necessitated resuscitation interventions
Failure to provide rapid diagnostic identification of multiple perforation injuries negligently caused, and in doing so denied patient the possibility for rapid time to relevant treatment
Specific Counts Pled
Negligence - Medical Malpractice
Negligence - Medical Malpractice via Agency
Wrongful Death
Plaintiff's Experts and Areas of Specialty
C. Scott Hultman, M.D., MBA, FACS - board-certified in Plastic Surgery, General Surgery, and Surgical Critical Care; University of North Carolina Department of Surgery; licensed in North Carolina
Getting a Lawyer for Your Surgical Malpractice Claim
If you have suffered an injury due to the negligence of a doctor or anesthesiologist, our firm can help. Miller & Zois has a long history of results in medical malpractice cases in Maryland, earning large verdicts and settlements. Give us a call today at (800) 553-8082 or get a free online case review.
More Malpractice Claim Information