Anesthesiologist Propofol Wrongful Death Lawsuit
Cabrera v. Carroll Health Group, LLC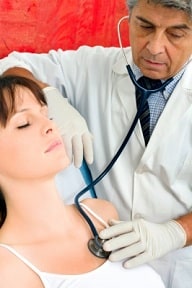 This is a wrongful death medical malpractice case filed on behalf of a man against his primary care provider and anesthesiologist, who fail to obtain cardiac clearance prior to sedating him for a colonoscopy. It was filed in Health Claims on April 17, 2017, and it is the 185th medical malpractice case filed in 2017 in Maryland.
Summary of Plaintiff's Allegations
A 56-year-old man has a history of atrial fibrillation, congestive heart failure, cardiomyopathy, coronary artery disease, COPD, insulin-dependent diabetes, high blood pressure, sleep apnea, and obesity. He has had multiple cardiac surgeries.
One day, he goes to defendant doctor for a pre-operative clearance for a screening colonoscopy. Defendant doctor clears him for the procedure without an evaluation from a cardiologist. A few days later, the man goes to defendant endoscopy center for the colonoscopy.
He is evaluated by defendant anesthesiologist. Defendant anesthesiologist also does not refer him to a cardiologist but administers sedative anesthetic agents. The levels of carbon dioxide in his respiratory gasses are not measured nor is his blood pressure taken during the procedure. Twice, his heart rate is found to be low. During the procedure, he suffers cardiovascular collapse. The man is taken to Carroll County Hospital where attempts to resuscitate him fail.
The man's wife and children files this wrongful death and survival action lawsuit, alleging that both his primary care provider and the anesthesiologist should have made him get cardiac clearance before beginning the colonoscopy due to his medical history and co-morbidities.
They claim that the acceptable standards of practice and care require defendants to base the decision on which anesthesia to use based on the patient's health history. In this case, they content that the patient history dictated a complete review by a cardiologist.
Presumably, they will proffer an expert who will say that had such an evaluation been done, propofol would not have been the choice. This is because of its depressive effects on the heart. Instead, an anesthetic that does not affect the heart as severely as propofol should have been utilized. Plaintiff may also argue that the procedure should have been scrapped given that it was not urgently needed.
Additional Comments
Most of these anesthesia cases allegations that the doctor should have turned off propofol when the patient was exhibiting signs of side effects like hypotension which is a commonly recognized side effect (approximately 25% of cases).
The first question in a case like this is whether the screening would have picked up a concern that would have led to a reasonable patient choosing a different path.
The doctors may argue that there is no hard evidence that the propofol caused the hypotension. A variety of hemodynamic changes can occur right after initiation of positive pressure ventilation, and propofol is only one potential culprit. This will be a hard argument given the frequency of this side effect.
Propofol is the drug that killed Michael Jackson.
Jurisdiction Defendants
A primary care provider
Carroll Health Group, LLC
An anesthesiologist
Poole Endoscopy Center, LLC
Hospitals Where Patient was Treated Negligence
Failure to use appropriate treatment, surgery, tests and/or procedures
Failure to thoroughly evaluate patient's condition and diagnose him
Failure to evaluate effects and results of tests or surgeries performed
Failure to provide patient with adequate informed consent
Specific Counts Pled
Negligence - Wrongful Death
Negligence - Survival Action
Agency
Plaintiff's Experts and Areas of Specialty Getting a Lawyer for Your Anesthesiologist Malpractice Claim
If you have suffered due to a doctor's negligence, we can help you get the justice and compensation that you deserve. Miller & Zois has a history of obtaining verdicts in medical malpractice cases in Maryland, earning large verdicts and settlements. Call us today at (800) 553-8082 or get an online case review.