Spinal Back Surgery Infection Malpractice Lawsuit
Martin v. Anonymous Doctor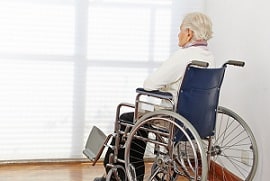 This surgical malpractice lawsuit was filed by a woman who develops an infection during a spinal fusion surgery. The infection goes untreated for eight months, resulting in serious medical complications. The case was filed in Health Claims Arbitration on April 12, 2017, and it is the 172nd medical malpractice case filed in Maryland in 2017.
Summary of Plaintiff's Allegations
This is a failure to diagnose an infection after back surgery case. Plaintiff has a lumbar decompressive laminectomy fusion done by defendant surgeon. The risks with decompression and fusion are death, neural injury, pseudoarthrosis, excessive bleeding, durai tears, infection, thromboemboli and medical complications related to the procedure.
The patient is healing poorly, so a month later, she is admitted to Doctor's Community Hospital for debridement and irrigation. This is also done by defendant surgeon.
For the following six months, she continues to have increased pain and becomes wheelchair bound. Defendant evaluates her during several follow-up appointments, but assures her that they should wait and see what happens.
Eight months after the lumbar decompressive surgery, the woman experiences a blood clot and is rushed to Arlington Center Hospital's ER with shortness of breath. She remains in the hospital for eight days, where she is told there is an infection. She is transferred between several hospitals - Larkin Chase Rehab Center, Doctor's Community Hospital, and Johns Hopkins. While at Hopkins, surgery is done to replace the hardware in her spine. She then returns to Larkin Chase Rehab where she stays for four months.
The plaintiff files this claim, alleging that defendant surgeon breached the standard of care in failing to properly monitor her infection and to treat her.
Additional Comments
There was no expert report filed with the complaint. Presumably, the plaintiff will get an expert to offer the opinion that a CT myelogram should have been done that would have demonstrated an infection was the cause of her symptoms.
Typically the infections after a lumbar decompressive laminectomy fusion are around the nerve root or in the disc space itself.
This is a barest of bones complaint filed just weeks before the statute of limitations expired. The fear is always that unexpected defendants will be uncovered during discovery.
Jurisdiction Defendants
An orthopedic surgeon at Doctors Community Hospital and Prince George's Hospital Center
Hospitals Where Patient was Treated
Doctor's Community Hospital
Johns Hopkins
Negligence
Failure to monitor and treat and care the plaintiff's infection
Specific Counts Pled Plaintiff's Experts and Areas of Specialty Getting a Lawyer for Your Surgical Malpractice Claim
If you have suffered as a result of the negligence of a doctor or hospital, our law firm can help you. Call today to speak to a caring medical malpractice attorney at (800) 553-8082 or get a free online case review.
More Malpractice Claim Information
Read about other surgical malpractice cases filed in 2017:
Some other cases filed against Johns Hopkins this year: